Songs
Can you help with information/opinions about the choice of songs heard in The Sure Thing? Please click Here
The following song tracks were featured in
The Sure Thing
:
Track names in Bold are linked to a Soundtrack release.
Infatuation - Rod Stewart
The Heart of Rock & Roll - Huey Lewis and The News
Two Sides of Love - Sammy Hagar
Party All Night - Quiet Riot
Tears - John Waite
Concealed Weapons - J. Geils Band
The Age of Aquarius - The Fifth Dimension
Button Up Your Overcoat - Ruth Etting
Feelings - Morris Albert
Heartache Tonight - The Eagles
The Fast One - J.D. Souther
Chestnuts Roasting on an Open Fire - Mel Tormé and Robert Wells
You Might Think - The Cars
Dance Hall Days - Wang Chung
Penny Lover - Lionel Richie
Lights Out - Peter Wolf
Just Because - Ray Charles
Are We Missing Any?
Song Trivia

Sadly a soundtrack was never produced. Most of the songs in the movie were purely 80s tracks but songs from previous decades also creep into the mix. The Eagles, "Heartache Tonight" made it into this quintessential 80's movie's soundtrack.
-Thanks to Leo
Some of the songs featured in the movie were "Inflatuation" by Rod Stewart (opening credits), "The heart of Rock and Roll" by Huey Lewis and the News (the bonfire party scene), "You might think" by the Cars (The beach party scene), "Lights out" by Peter Wolf (lead singer of the J. Geils Band)(the beach party scene)and "Penny Lover" by Lionel Richie (Slow dance scene during the beach party). Many of these songs were popular during the time of the film's release in '85.
Add some more trivia about the songs used in The Sure Thing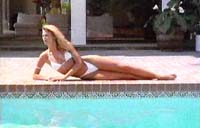 1985
Score Music
Composer(s):
Tom Scott
Tom Scott, a celebrated jazz saxophonist, composed the musical score. If you listen carefully, sometimes the music sounds like certain 80's songs.. one example that comes to mind is when the trucker decides to help Gib get to his 'sure thing' if he agrees to pay the tickets, he steps on the gas and the music kicks in, which sounds a LOT like a ZZTop song, I think 'Sharp-dressed man'. [Thanks to Kevin Plumb]
Can you help with any of the instrumental score track names used in The Sure Thing?
Score Trivia
Do you know any interesting trivia about the instrumental score music used in The Sure Thing? Please send it in by clicking Here