FILMFACTS
PRODUCTION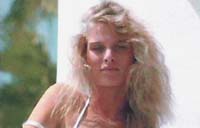 Production
Go behind the scenes on the 1985 Romantic Comedy movie starring John Cusack, Daphne Zuniga, Anthony Edwards More Cast
We believe the following info is all legit. If it's bogus or you have additional info, please update us.
The scene where Gib teaches Alison to shotgun a beer was added to the script after John Cusack told Rob Reiner it was something he knew how to do.
Thanks to
Matthew R. Bates
The script was inspired by Frank Capra's classic "It Happened One Night", an incredible movie, the link being the Hitchhiking sequence.
The bar scene was filmed at an actual bar/restaurant in Walnut Grove, California. Named "Tony's" place ... And yes, to this day, you will still find "snow and Christmas scene" over the bar. It's Tony's claim to fame and some (maybe most) of the campus scenes were filmed at University Of The Pacific, in Stockton, California...
The entryway to the "swimming pool" (the steps) was actually the entryway to University of the Pacific's engineering building (in Stockton, CA). Engineering Professor Joe King built a large scale model (about 10 feet across) of a space station out of toothpicks, which was hanging in that entryway and can partially be seen in the movie. The football scene was shot outside that same building. One of the students watching the filming of that scene yelled "Hey Meathead" at Rob Reiner who simply ignored it. It's unknown whether the scene had to be reshot, or if it was simply edited out by sound engineers. There is a brief shot of a tower in the movie. That tower was also on UOP's campus in Stockton, CA.
Lets also not forget Tim Robbins! He was the driver of the car! He sang, "This is the Dawning of the Age of Aquarius". Robbins evidently ad-libbed along with his "girlfriend" Lisa Jane Persky adding several great lines and injected key words to the script which made two small roles memorable roles.
Anthony Edwards was originally considered for Gibson but was offered the best friend role when Cusack was ultimately cast.
Nicollette Sheridan, now better known for her portrayal of Edie Britt in "Desperate Housewives", was asked to audition in a bikini for the role, she told director Rob Reiner that she didn't think he could handle it!
Next Section: Deleted Scenes
Deleted Scenes
There are often scenes cut from the final version of a movie. Sometimes these will have been seen by preview audiences, or be included in Blu-ray or DVD extras etc.
Shucks.. We don't know of
any
cut scenes from "The Sure Thing".
Can you help?
Please
add one
for others to enjoy.
It's quick & easy
Next Section: Alternate Versions
Alternate Versions
Sometimes, there will be several versions of a movie floating about on cable, tv or video etc. Other times, a Director may release a special cut of the movie on Blu-ray or DVD.
Aw, man.. We don't know of
any
alternate versions of "The Sure Thing". If
you know
better, please
add one
for others to enjoy.
It's quick & easy
Jump To: Filming Locations
Or use the menu to select another option
1985 Embassy Pictures Corp.
1999-2018 fast-rewind.com
V4.0b Powered by Rewind C21 CMS