Songs
Some of the songs were done by the Wright Brothers Band. [Thanks to Dave Pridgeon]
Can anyone help with titles of those songs?
The following song tracks were featured in
Overboard
:
Track names in Bold are linked to a Soundtrack release.
Something Special - Randy Newman
I Love You Madly - Harvey Miller
Jim Dandy to the Rescue - The Wright Brothers Band
Are We Missing Any?
Song Trivia

The cover of the Jim Dandy song "Can't Help Falling In Love" was sung by Tom Wright of The Wright Brothers, who also made an appearance in Overboard.
Add some more trivia about the songs used in Overboard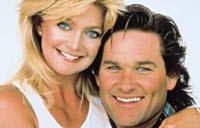 1987