Songs
Some of the songs were done by the Wright Brothers Band. [Thanks to Dave Pridgeon]
Can anyone help with titles of those songs?
The following song tracks were featured in
Overboard
:
Track names in Bold are linked to a Soundtrack release.
Something Special - Randy Newman
I Love You Madly - Harvey Miller
Jim Dandy to the Rescue - The Wright Brothers Band
Are We Missing Any?
Song Trivia
Do you know any interesting trivia about the songs used in Overboard? Please send it in by clicking Here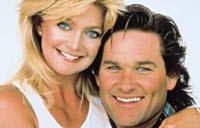 1987