Songs
Twelve original, off-beat songs from the early 60's, many of which are out of print before John Waters put them back on this soundtrack.
These songs are, in my opinion, some of the best from the 60's.
The following song tracks were featured in
HairSpray
:
Track names in Bold are linked to a Soundtrack release.
Hairspray - Rachel Sweet
The Madison Time - The Ray Bryant Combo
I'm Blue (The Gong Gong Song) - The Ikettes
Mama Didn't Lie - Jan Bradley
Town Without Pity - Gene Pitney
The Roach (Dance) - Gene And Wendell
Foot Stompin' - The Flares
Shake A Tail Feather - The Five Du
The Bug - Jerry Dallman And The Knightcaps
You'll Lose A Good Thing - Barbara Lynn
I Wish I Were A Princess - Little Peggy March
Nothing Takes The Place Of You - Toussaint Mccall
Good Morning Baltimore - Hairspray Cast
Life's Too Short - The Lafayettes
Hide and Go Seek (Dirty Boogie) - Bunker Hill
You Don't Own Me - Lesley Gore
Are We Missing Any?
Song Trivia
Do you know any interesting trivia about the songs used in HairSpray? Please send it in by clicking Here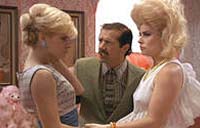 1988