Songs
One of the Better 80's soundtracks to come out but this title is only available in Japan. So if you would like the soundtrack, use our search feature.
The following song tracks were featured in
The Goonies
:
Track names in Bold are linked to a Soundtrack release.
Goonies 'R' Good Enough - Cyndi Lauper
Eight Arms to Hold You - Goon Squad
Love Is Alive - Philip Bailey
I Got Nothing - The Bangles
14K - Teena Marie
Wherever You're Goin' (It's Alright) - Reo Speedwagon
She's So Good to Me - Luther Vandross
What a Thrill - Cyndi Lauper
Save the Night - Joseph Williams
Are We Missing Any?
Song Trivia

The band The Ataris, on their most recent album entitled "So Long, Astoria", pays tribute to The Goonies in their first song with the following lyrics:"So long, Astoria, I found a map to buried treasure and even if we come home empty handed, we'll still have our stories of battle scars, pirate ships and wounded hearts, broken bones and all the best of friendships…this is my wish and I'm taking it back, I'm taking 'em all back."
-Thanks to Trent
Add some more trivia about the songs used in The Goonies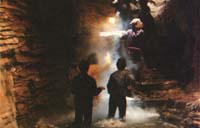 1985