Songs
The original soundtrack CD includes the Academy Award-nominated "Ghostbusters" by Ray Parker Jr., plus hits from The Bus Boys, The Thompson Twins, Air Supply, Laura Brannigan, and other artists whose songs appear in the film. It also contains two selections from Elmer Bernstein's amazing score for the film.
It was newly remastered on CD in Feb 2006 to sound even better!
The following song tracks were featured in
Ghostbusters
:
Track names in Bold are linked to a Soundtrack release.
Ghostbusters - Ray Parker, Jr.
Cleanin' Up the Town - The Busboys
Savin' the Day - Soundtrack
In the Name of Love - Thompson Twins
I Can Wait Forever - Air Supply
Hot Night - Laura Branigan
Magic - Mick Smiley
Ghostbusters [Instrumental Version] - Ray Parker, Jr.
Disco Inferno - The Trammps
Ghostbusters [12" Single Remix] - Ray Parker, Jr.
Are We Missing Any?
Song Trivia

Not long after the "GhostBusters" theme song was released as a single, Ray Parker Jr. & Ivan Reitman found themselves hit with a lawsuit by 80's rock star Huey Lewis, who had originally been approached to write the music for the movie. But after he turned them down, his band & crew could clearly hear the melody of their song "I Want A New Drug" had been pirated by Parker to compose the theme. It was eventually settled out of court, but the "GhostBusters" theme went to #1 on the Billboard charts anyway (Most fans of the film had no idea what had been happening). Either way, "GhostBusters" or "I Want A New Drug" can arguably be considered Huey Lewis's first Top 40 single to hit #1, but was Ray Parker Jr.'s last Top 40 hit, period. Today, Parker remains a hitmaker in the jazz world.
-Thanks to C.T. Warren
Add some more trivia about the songs used in Ghostbusters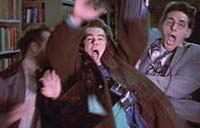 1984