VIBES
SOUNDTRACK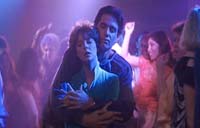 Songs
Can you help with information/opinions about the choice of songs heard in Fright Night? Please Update Us


The following song tracks were featured in Fright Night
highlighted
track names are linked to Soundtrack release info
Artists are linked if they appear in other featured movies.
The soundtrack has always been rare and it doesn't help that there are 4 versions of it that have been available. One version is the audio cassette tape & Vinyl LP with 10 tracks, all songs. This version was later made available in Japan on the audio CD format. Then, there were just 500 pressings of a CD made available to die hard fans of the film. This disc includes 28 tracks, the 10 songs and 18 instrumental/musical score. Thare have been many (probably bootleg) re-pressings of this. I have seen at least 4 versions. One with the vampire in the clouds above the house with the words 'The Complete Original Soundtrack' at the top of the picture. The second version has Jerry Dandridge biting Amy and blood running down her shoulder. A third CD has the words 'Complete Original Soundtrack' at the bottom of the cover also the vampire in the clouds above it. The discs as far as I know come in two diffent colors: one is silver with black lettering and the 'Fright Night' lettering is in red. My cd is not silver but is totally red with black lettering and so is the word 'Fright Night'. All versions are extremely difficult to obtain but, luckily our search device is here to help.
The Fright Night soundtrack was released on vinyl in 1985 on "Private I" records which was a CBS associated label.
Some of the stand out songs were "Armis Of The Night" by Sparx, "Fright Night" by J.Geils Band, "Rock Myself to sleep" by April Wine, "Good man in a bad town" by Ian Hunter (from Mott The Hoople. There was a video made for the title song "Fright Night" which was also a lot of fun and worth a look on youtube.
Next Section: The Instrumental Music
Instrumental Score
Primary Composer(s): Brad Fiedel

Can you help with any information/opinions about the instrumental score music heard in Fright Night? Please Update Us


The following instrumental score tracks were featured in Fright Night
highlighted
track names are linked to Soundtrack release info.
Composers are linked if they worked on other featured movies.
After being a candidate for the 'most bootlegged 80s score', in October of 2011 Intrada Records finally officially released the Fright Night score by Brad Fiedel. The CD is taken from 1/4" two-track stereo master elements courtesy of both Sony Pictures and composer Brad Fiedel.
Jump To: The Juicy Trivia!
Or use the menu to select another option
1985 Columbia Tristar Pictures
1999-2018 fast-rewind.com
V4.0b Powered by Rewind C21 CMS