Songs
As far as I'm aware, the soundtrack is unavailable, though all songs are listed with all their information in the credits. "Openings", the love theme, is available on Philip Glass's GLASSWORKS.
The following song tracks were featured in
Breathless
:
Track names in Bold are linked to a Soundtrack release.
Suspicious Minds - Elvis Presley
Message of Love - The Pretenders
Wonderful World - Sam Cooke
Celtic Soul Brothers - Dexy's Midnight Runners
Breathless - Jerry Lee Lewis
Are We Missing Any?
Song Trivia

Dexy's Midnight Runners actually released a song other than "Come On Eileen"! Listen for it during the scene when Jesse and Monica enter the parking-garage-cum-dance-club.
Add some more trivia about the songs used in Breathless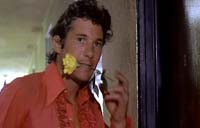 1983