Songs
Can you help with information/opinions about the choice of songs heard in Body Double? Please click Here
The following song tracks were featured in
Body Double
:
Track names in Bold are linked to a Soundtrack release.
Relax - Frankie Goes To Hollywood
Thats the way I like it - KC and the Sunshine Band
The House Is Burning - Vivabeat
Are We Missing Any?
Song Trivia

80's band Frankie Goes To Hollywood were already famous (and probably Relax was the most successful song of that year), so Brian DePalma asked Frankie to perform Relax in the film. Frankie Goes To Hollywood ended up making 5 different videos for the same song for release. The Roman Orgy video is the closest to the movie version.
-Thanks to Antoniko Gonzalez Jr
Add some more trivia about the songs used in Body Double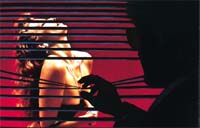 1984