Songs
Can you help with information/opinions about the choice of songs heard in Bill & Ted's Excellent Adventure? Please click Here
The following song tracks were featured in
Bill & Ted's Excellent Adventure
:
Track names in Bold are linked to a Soundtrack release.
Play With Me - Extreme
Boys and Girls Are Doing It - Vital Signs
Not So Far Away - Glen Burtnik
Dancing with a Gypsy - Tora Tora
Father Time - Shark Island
I Can't Break Away - Big Pig
Dangerous - Shark Island
Walk Away - Bricklin
In Time - Robbi Robb
Two Heads Are Better Than One - Power Tool
Are We Missing Any?
Song Trivia

The end theme song, Two Heads are Better Than One, was written by Nelson and Dweezil Zappa and performed by Power Tool (actually Nelson).
In the scene where Bill & Ted visit the future with the awesome music in the background, the song being played is the Robbie Robb "In Time" song.
However, this version in the movie is different to the one on the soundtrack CD, featuring an extended intro and more guitar solos. It's actually better than the one on the soundtrack, here's hoping they re-release the soundtrack with this movie version of the song.
-Thanks to Ryan Harvard
This movie must have had a profound effect on the new rock group "the ataries" for they have a song titled "San dimas highschool football rules" in which there is a line stating "searching for a highschool you know doesn't exist"
-Thanks to Kevin Allustiarti
Add some more trivia about the songs used in Bill & Ted's Excellent Adventure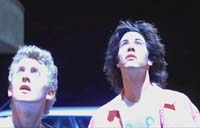 1989