Songs
Can you help with information/opinions about the choice of songs heard in Beat Street? Please click Here
The following song tracks were featured in
Beat Street
:
Track names in Bold are linked to a Soundtrack release.
Beat Street Breakdown - Grandmaster Flash, Melle Mel, The Furious Five
Baptize the Beat - The System
Strangers in a Strange World - Jenny Burton, Patrick Jude
Frantic Situation - Africa Bambaataa, The Soul Sonic Force feat Shango
Beat Street Strut - Juicy
Us Girls - Sharon green, Lisa Counts, Debbie D
This Could Be the Night - Cindy Mizelle
Breaker's Revenge - Arthur Baker
Tu Carino/Carmen's Theme - Ruben Blades
Son of Beat Street - Jazzy Jay
Give me All - Juicy
Nothin's Gonna Come easy - Tina B.
Santa's Rap - The Treacherous Three
It's Alright - Me by Jenny Burton
Battle Cry - Rocker's Revenge
Phony Four MCs - Wappin' (Bubblehead) - Ralph Rolle
Into the Night - La la
Believe It - Bernard Fowler
IOU - Freeez
Play That Beat - G.L.O.B.E. & Whiz Kid
Only Love Shadows - Lisa Fischer
Are We Missing Any?
Song Trivia

The Rock Steady Crew also performed in "
Flashdance
". However, of the various members only Crazy Legs was in both Flashdance and Beat Street.
The Rock Steady Crew performed with another 80's phenomenon Bow Wow Wow at the Ritz nightclub in 1982.
Add some more trivia about the songs used in Beat Street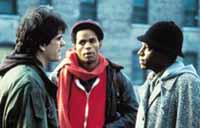 1984
Score Music
Composer(s):
Harry Belafonte, David Belafonte
Arthur Baker may also have had a helping hand in some of the music.
Can you help with any of the instrumental score track names used in Beat Street?
Score Trivia
Do you know any interesting trivia about the instrumental score music used in Beat Street? Please send it in by clicking Here