"Beat Street" was actually based on Steven Hager's long out of print book "Hip Hop".
-Thanks to Brian
More Trivia from Beat Street
Comparisons between Beat Street and
Breakin'
are inevitable.
Both were released in 1984 and have break dancing as the heart and soul theme of the films. They have conflict between perceived legitimate art forms versus the credible street roots, and both have pint sized extremely cute and talented side-kick breakers (Turbo and Lee).
That's about where the similarities end. Despite the obvious differences in location (Breakin' is in LA and Beat Street is in New York) the most crucial difference is substance. Beat Street achieves a well crafted and consistent narrative, the script writers have created developed characters and the actors are adept at acting and dancing.
The story revolves around Kenny (Guy Davis) and his group of friends living in the Bronx. Kenny is a talented and passionate musician who records unique sounds from the street and mixes them with beats, rap and original music. His best friend Ramon (Jon Chardiet) is just as talented at graffiti art, but perhaps even more passionate in his artistic fervour and commitment which causes conflict with his Puerto Rican father, and his girlfriend's family. Add in the third friend Chollie (Leon W Grant) who thinks of himself as an entrepreneurial businessman you have a collection of ambitious people living in realistically ghetto conditions who have a dream that their talents can lead to better things in life.
Kenny's little brother Lee (Robert Taylor) is perhaps the coolest character in the whole film and really steals the show whenever he's in front of the camera. He is a member of the New York Breakers, who happen to break-dance-off whenever they come across the Rock Steady Crew, which occurs at their local underground party, the Roxy and the 57th Street subway - the Roxy battle being the highlight of the b-boy breakin' scenes.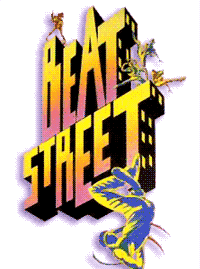 All of these great characters and we haven't even mentioned the beautiful Tracy (Rae Dawn Chong) who is a talented composer / musician, and acts as the legitimate professional from the good side of the tracks and on her way up. After an initial conflict, the romance blossoms between Tracy and Kenny fuelled by their shared love of music.
Tragedy hits the group hard with the death of Ramon when he confronts his nemesis, the vandal tagger Spit. This is another turning point in Kenny's already messed up life and he uses his emotion to take control of his own life and perform a tribute night for Ramon at the Roxy on New Years Eve, a coming of age for him.
The film is interested in the authenticity of hip hop culture, the city and the characters that fuelled the scene. The list of appearing artists is impressive: Magnificent Force, Rock Steady Crew, New York Breakers, The Treacherous Three, Afrika Bambaataa and the Soul Sonic Force, Grand Master Melle Mel and the Furious Five, Jazzy J – legitimate funk and hip hop activists of the day.
The combination of great music, incredible breakin', real location shots, and believable characters make it a very satisfying film.
The overall structure, narrative, script, characters, acting quality and the combination of music, art and dancing all add up to a good film, not just a good hip hop film.
There are some discrepancies which let it down - icey snow one minute, gone the next. A sincere attempt at authenticity is spoilt by some leniencies - actors having to wear puma and kangol (althoug in real life some did), and the set designers painting the graffiti art.
Notice any mistakes? Review
Strengths:
Strong script and characters with great music and dancing.
Weaknesses?
Obviously striving to be an authentic expression of hip hop culture but some discrepancies let it down.
Our rating:
8 out of 10
Review Written by Apollonia: Contact | More Reviews by Apollonia