Songs
This soundtrack is one you should own simply for the Phil Collins ballad, if nothing else. The song is brilliant, and would stand out on its own even if there wasn't a film based on it.
The following song tracks were featured in
Against All Odds
:
Track names in Bold are linked to a Soundtrack release.
Against All Odds (Take a Look at Me Now) - Phil Collins
Violet and Blue - Stevie Nicks
Walk Through the Fire - Peter Gabriel
Balcony - Big Country
Making a Big Mistake - Mike Rutherford
My Male Curiosity - Kid Creole & The Coconuts
Are We Missing Any?
Song Trivia

Mariah Carey redid Phil Collins song, "Against All Odds", on her album "Rainbow". It's number 9 on her c.d. (Phil's version is better, in my opinion, but hers is nice too).
Agaianst All Odds, performed by Phil Collins, was nominated for an Oscar and a Golden Globe. When it was to be performed at the Academy Awards in 1985, the people at the Academy Of Motion Picture Arts & Sciences decided they needed a showbiz personality to perform it. So therefore, although Phil Collins was in the audience that night, performing duties fell to Ann Reinking, Broadway dancer and actress in movies like "Annie" and "Micki + Maude". It didn't matter much anyhow... "I Just Called To Say I Love You" from "The Woman In Red" defeated "Against All Odds (Take A Look At Me Now)".
When Anne Reinking performed the song at the Oscars, she lost it emotionally and left the stage in a very awkward moment.
-Thanks to David Czuba
It was a Genesis reunion of sorts on the soundtrack as Phil Collins performed the title track, Mike Rutherford also performed a track "Making a Big Mistake" and Peter Gabriel performed "Walk Through the Fire".
Phil Collins did NOT write the track for the movie. It was a track which was mostly finished in demo form which he had waiting around until his first solo World Tour was over (he was touring "FACE VALUE" at the time).
Anyway, they asked if he had any songs he could contribute and he came out with this one which was just laying around. So he recorded it I believe while on tour in a studio in France with little time to make it perfect.
Phil's career wasn't smoking hot just yet, but after the moderate success of his first two solo albums, "Against All Odds" certainly got more people listening, and soon any record he touched at that time was turning gold, if not platinum!
-Thanks to Leo
When Phil Collins wasn't recording huge solo hits like the title track or working with Genesis, he often could be found in the studio producing fellow artists's songs, such as Frida's single "There's Something Going On", Philip Bailey's "Easy Lover"(which he & Phil sang as a duet) and several songs on two Eric Clapton albums.
In 1985, his most notable achievement (besides the Grammy-winning "No Jacket Required" album) was playing the London venue of Live Aid, then hopping on the Concorde and performing again at the venue in Philadelphia! Both "Against All Odds" and his first single "In The Air Tonight" were sung in both cities.
-Thanks to C.T. Warren
Add some more trivia about the songs used in Against All Odds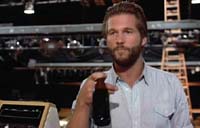 1984