FILMFACTS
PRODUCTION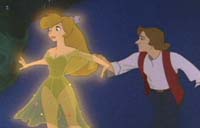 Production
Go behind the scenes on the 1980 Dance / Music movie starring Olivia Newton-John, Gene Kelly, Michael Beck More Cast
We believe the following info is all legit. If it's bogus or you have additional info, please update us.
The mural was never actually displayed in Venice Beach. It was, in fact, painted and photographed at the studio and superimposed over a still photo of the end of Dudley Avenue at Venice Beach Boardwalk.
Olivia Newton-John met her husband, actor and dancer Matt Lattanzi, on the set of this film.
The shooting of Xanadu began September 18, 1979, primarily in and around Los Angeles area.
Xanadu's interior was built in Studio 4 of the Hollywood General Studios; it took roughly three months to build the two-story mammoth set and it cost $1,000,000 to make.
The big mirror seen briefly in the last part of the dance scene between Gene Kelly & Olivia Newton John is now in the LA County Museum of art. It came from a home in Menlow Park and was later acquired by the movie studio. It's now in the museum.
The animated sequence for the song "Don't Walk Away" was the first work contracted to Don Bluth after he left Disney and started his own animation studio.
The "Sonny Malone" character, played by Michael Beck, is responsible for bringing together Olivia and her now-ex-husband Matt Lattanzi and thus indirectly responsible for Olivia's now grown daughter, Chloe Rose Lattanzi. Filming began on Xanadu before the role of Sonny Malone had been cast. In the interim, Matt Lattanzi, a dancer in the film, played the part of "stand-in" for Sonny Malone for Olivia's filmed scenes and close-ups. In addition, Lattanzi, in the "Whenever You're Away From Me" sequence, can be briefly seen playing the clarinet in the orchestra where he is supposed to be a "young Danny McGuire" (i.e., Gene Kelly's character).
Famed photographer, Herb Ritts (he did Cindy Crawford's Playboy spread and several famous photographs) did most of the publicity stills for Xanadu. He later did most of the photography for Olivia's Physical album.
Next Section: Deleted Scenes
Deleted Scenes
There are often scenes cut from the final version of a movie. Sometimes these will have been seen by preview audiences, or be included in Blu-ray or DVD extras etc.
Shucks.. We don't know of
any
cut scenes from "Xanadu".
Can you help?
Please
add one
for others to enjoy.
It's quick & easy
Next Section: Alternate Versions
Alternate Versions
Sometimes, there will be several versions of a movie floating about on cable, tv or video etc. Other times, a Director may release a special cut of the movie on Blu-ray or DVD.
The following versions of Xanadu are apparently real. If you disagree or have additional info, please update us.
In some theatrical prints of the movie, there was a montage of voice-over dialogue before the "I'm Alive" sequence, as Sonny sketches various objects in his apartment. The dialogue ranged from people congratulating him for striking out on his own, to people turning him down for jobs. The final bit of dialogue had a female grocery store clerk apologetically telling him that, because he was short of funds or out of credit, he'd have to "...put the 'Twinkies' back...".

This bit of voice-over dialogue has never been included on any of the home video versions of the film, including the 2008 remastered DVD re-release. It's too bad, as the dialogue helped set-up the later scene where Sonny returns to his dead-end job at Air-Flo records, and laments his failure at freelancing.
Jump To: Filming Locations
Or use the menu to select another option
1980 Universal Pictures
1999-2018 fast-rewind.com
V4.0b Powered by Rewind C21 CMS