FILMFACTS
PRODUCTION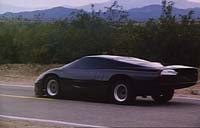 Production
Go behind the scenes on the 1986 Sci-Fi movie starring Charlie Sheen, Sherilyn Fenn, Nick Cassavetes More Cast
We believe the following info is all legit. If it's bogus or you have additional info, please update us.
This link is a post about The Wraith from my film production memoirs blog. I was the production coordinator on Wraith.
This flick is a favorite of Shelby Dodge enthusiasts for obvious reasons. Most of the cars, including the Turbo Interceptor were all 2.2L 4 cylinder Chrysler Turbo's. Some of the best race scenes had 2.2L Dodge Daytona's in them. And while the first race scene with the white Daytona Turbo Z keeping up with the Corvette may not seem feasible. I can guarantee you, the Daytona was very well capable of beating the Corvette in real life if it had the right performance modifications. Even the police were driving turbo-charged Plymouth Reliants. The Turbo Interceptor had a prototype twin turbo setup, but was primarily based on the 2.2L Chrysler engine. Even now, the owner's of 80's Turbo Dodges drive their cars to victory in everything from street racing to autocross to drag racing. And they remain a best kept little secret in the world of hot rodding.
The car with the teeth painted on and other stuff is in fact a 1966 Plymouth Barracuda. Pretty collectible car nowadays.
Assistant cameraman Bruce Ingram was tragically killed and 7 others critically injured during a chase sequence shot on the Catalina Highway mountainside outside Tucson when the camera crew truck crashed
The "Turbo Interceptor" featured in the movie was a "real car" -the Dodge M4S. It was loaned to the production by Dodge and was, in fact their 1984 PPG pace car. Built by Chrysler and PPG for $1.5 million, it had a 2.2 litre twin turbocharged engine with a a twincam Cosworth 16-valve cylinder head and an extremely expensive PPG custom metallic paint job created by overlaying PPG black glossed with 16 coats of pearl and five coats of clear laquer to create a finish that "glows" golden brown to mauve depending on the light. A company called 'Code One' additionally made six M4s Turbo Interceptor replica cars for the movie, however only a few were working replicas. Four were destroyed for the filming of the movie. Later, after the filming of the movie, the original Turbo Interceptor was returned to Dodge and may now be on regular display at the Walter P. Chysler Museum in Auburn Hills, Michigan. One of the movie replicas is being restored at this site. More details on this Amazing car and its history can also be found in the archive copy of the now dead Auto-Enthusiast.com.
I was the Location Manager on The Wraith. Charlie Sheen was preparing for his trip to the Philippines to start shooting PLATOON. Between scenes he would talk to anyone on the crew about this country. There had been lots of "activity" there and he was admittedly apprehensive. Every chance I got, I would sneak up behind him, stick my finger in his back and say, "Gotcha!" Scared the devil out of him but by the time we wrapped the movie we had him ready for his trip. Lots of fun making this picture.
Day 1 of a 42 day shooting schedule found cast and crew at the "lake" (Sabino Canyon -see locations section) on Thursday Jan 23rd 1986 to shoot most of the scenes filmed there including the sunbathing Packard getting Jealous and later ordering Skank and Gutterboy to 'keep an eye' on Keri.
Next Section: Deleted Scenes
Deleted Scenes
There are often scenes cut from the final version of a movie. Sometimes these will have been seen by preview audiences, or be included in Blu-ray or DVD extras etc.
Shucks.. We don't know of
any
cut scenes from "The Wraith".
Can you help?
Please
add one
for others to enjoy.
It's quick & easy
Next Section: Alternate Versions
Alternate Versions
Sometimes, there will be several versions of a movie floating about on cable, tv or video etc. Other times, a Director may release a special cut of the movie on Blu-ray or DVD.
Aw, man.. We don't know of
any
alternate versions of "The Wraith". If
you know
better, please
add one
for others to enjoy.
It's quick & easy
Jump To: Filming Locations
Or use the menu to select another option
1986 Allied Communications
1999-2018 fast-rewind.com
V4.0b Powered by Rewind C21 CMS