REWIND
OVERVIEW

"
The Adventure Continues...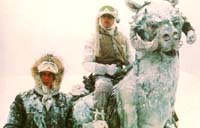 Starring
Harrison Ford, Mark Hamill, Carrie Fisher, Alec Guinness, Billy Dee Williams, Anthony Daniels, Kenny Baker, Frank Oz, David Prowse, Peter Mayhew (II), Jeremy Bulloch, John Hollis, Jack Purvis, Des Webb, Clive Revill, Kenneth Colley, Julian Glover, Michael Sheard, Michael Culver Update Cast
One of the asteroids in the chase sequence is actually a potato!

It appears just as the Millennium Falcon first enters the field. Two asteroids travel from the top left to the bottom right corner of the screen. Just after the second asteroid leaves the screen a third one appears in the top left corner. This is the potato.

-Another is a tennis shoe!
More Trivia from The Empire Strikes Back
Crew
Data
Summary
Back in the days, Star Wars was my favourite film in the series.

The original was humorous, bright and the action never let up for a second, 'The Empire Strikes Back' however, was an oddball, a movie I wasn't quite sure how to deal with, it was certainly different to the others, different, and as I'd realise in the years which followed, better.

From sand to snow we went, as Lucas relocated to Hoth for some amazing acts of rebellion against the improbably huge AT-AT walkers and a disgruntled Wampa. It was a dark time for the rebel alliance and already movie conventions were being twisted like the ruptured hull of a Tie Fighter. For heroes rarely took a beating like the one dealt out in The Empire Strikes Back. Did anyone suspect the betrayal on Could city or realise what a gruelling psyche-job Jedi training would be? And when Yoda forewarned Luke about the dark side, and elusively told us that there was "…another", we had, as Ben Kenobi once said "…taken our first steps into a larger world"…This is where Star Wars became serious.

First time around kids were a little unnerved by the dark nature of this movie. Even I was admittedly distressed when they carbonated Han Solo, and not even C-3PO's reassuring "oh that's carbonite he'll be quite safe in there" was enough to shake off the feeling of unease, for we all knew he was the best character in this trilogy.

Episode V is about as essential as two tauntauns in a blizzard (which is pretty essential), and although "Return Of The Jedi" / "Star Wars" are still the most fun.

"The Empire Strikes Back" is space fantasy at it's best, and arguably the one of greatest science fiction movies ever made.
Downbeat, dark, unforgettable...

Weaknesses? "I find your lack of faith disturbing"
Rewind Rating
Next: Read Our Full Review
Review
A long time ago, in a galaxy far, far away...

Ten words which, three years previously in 1977, had changed cinema forever.

"Episode IV: A New Hope" had seen the Rebel Alliance prosper: a young, disillusioned farm boy was granted an opportunity to restore peace and justice in a galaxy divided by Imperial oppression. We'd see him being taught by the great Obi-Wan, team up with an amiable space cowboy, rescue a princess and destroy the Empire's dreaded 'Death Star'.

George Lucas's 'space opera' had a "seizmic" influence on an entire generation and was to change many things about the way movies are made, watched and merchandised. The cinemas had been in decline, closing at an alarming rate prior to this new phenomenon. Much was riding on the sequel, not least the fact that, as George Lucas had financed it with his own money, his entire fortune and reputation was at stake, as well as his dreams of his own production company...



"Episode V: The Empire Strikes Back" sees the rebels fight an increasingly desperate battle from an outpost on the ice planet of Hoth.

Whilst Han and Leia escape in the Millennium Falcon, Luke Skywalker travels to the Degobah system in search of Yoda; an old Jedi master who'll teach him the ways of The Force. Luke says he isn't afraid of what's to come. "You will be..." warns the wizened ancient Jedi.

Whilst there, the others make their way to Bespin and Cloud City, run by Han's old partner and friend Lando Calrissian. They think that they will be safe there, but they were tracked by Boba Fett, the bounty hunter. Soon afterwards, Darth Vader arrives with an offer that Lando can't refuse, and he is forced to hand over the group to the Empire.

Luke senses this, and against Yoda's better judgement, he heads off to Cloud City to rescue them.

He is too late to save Han, who is frozen in a slab of Carbonite and handed to the bounty hunter as his prize. But he manages to help the others escape back to the Millenium Falcon and away to safety, leaving Luke to face Darth Vader...

To realise what must be the undisputed most anticipated sequel of all time, George Lucas turned to one of his old film school professors, Irvin Kershner, to direct after he literally made himself ill writing and directing "Star Wars".

Although 'Kersh' went over budget, causing Lucas many headaches, the achievement of Episode V cannot be denied. It is a fantastic sequel, technically superior and very mature. Many fans consider it to be their favorite of the original trilogy.

Episode V was also a huge gamble for Lucas. In the movie, we see that the rebels are soundly beaten. There is very little for them to celebrate by the end. The gamble worked, the 'darkness' of the sequel is one of the things fans hold most dear... [By: Kashif Ahmed/Nick Alaway/Paul Shrimpton]
Author:
The Fast-Rewind Team
Update This Review
Next Section: The Movie Trailer
Jump To: Music & Soundtrack Vibes
Or use the menu to select another option
1980 20th Century Fox
1999-2018 fast-rewind.com
V4.0b Powered by Rewind C21 CMS