FILMFACTS
TRIVIA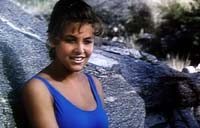 Totally Trivia
Film facts for the 1986 Sci-Fi movie starring Charlie Sheen, Sherilyn Fenn, Nick Cassavetes More Cast
We believe the following trivia is all legit. If it's bogus or you have additional info, please update us.
Steve Eckholdt who played "George", the victim of the movies' first race in the white Daytona, and Sherilyn Fenn who played "Keri" both guest starred in the same episode of NBC's "Friends" together, but, like in The Wraith, they don't share a scene. Eckholdt appears as "Mark" whom Ross (David Schwimmer) thinks is after his girlfriend, Rachel (Jennifer Aniston) and Fenn appears as "Ginger", a girl with an artificial leg, who dates Joey (Matt LeBlanc). This is Season 3, Episode 14 entitled "The One With Phoebe's Ex-Partner".
Nick Cassavetes also directed "The Notebook" (2004). His mom Gena Rowlands is one of the stars in the movie.
Clint Howard who plays Rughead, is actually Actor/Director Ron Howard's brother.
Nick Cassavetes (Packard), Jamie Bozian (Gutterboy) and Griffin O' Neal (Oggie) all starred together (as good guys) in "Assault of The Killer Bimbos" (1988).
Writer/ Director Mike Marvin also did "Hot Dog" in 1984 and later did "Hamburger" in 1986.
Born in Detroit, Michigan, Sherilyn Fenn had an unconventional childhood. She and her two older sisters and a young half-sister and half-brother spent their growing-up years moving from place to place with their mother, who played keyboards for various rock bands. Sherilyn got used to changing schools and sets of friends. She recalls that "it was a little unsettling always being the 'new girl,' but I developed an instinct for knowing who my friends would be immediately." At 17, Fenn and her mother moved to Beverly Hills. The teenager decided to pursue an acting career and studied for a year with various teachers. After a brief stint as a Playboy bunny at the Century City (L.A.) Playboy Club, Ms. Fenn appeared in a number of small features, including "Out of Control," "The Wraith," opposite Charlie Sheen, and "Prep School," with Virginia Madsen.
One of the waitresses at Big Kay's Burgers is Brooke Burke, former host of the E! Wild On tv show, now the host of E! Rank and a calender model.
The Turbo Interceptor car was allegedly built and offered as a kit, in a revised form for about 70 thousand dollars in the nineties by a guy called John Watson. Badged as the "Wraith II", his company was called Air Dynamics and it is believed that he didn't get any takers. It was later controversially offered by a company called Dalesar.
Matthew Barry who plays the character of Billy Hankins, also worked with John Cassavetes later, on his film "The Notebook". He has a small role playing Dr. Barnwell, opposite James Garner's character Duke.
Nick Cassavetes is the son of legendary actor and director John Cassavetes, and famed actress Gena Rowlands, and he also had a role in the 1997 film "Face/Off". He played the character of Dietrich Hassler, friend of Castor Troy.
Hello to everyone! Despite a few people out there stating they built the cars for this show, we ARE the people who built the cars for this show. If you have any question you can email us from our site. There are pictures of all the cars on there during their creation. Enjoy!
Matthew Barry, who played Billy Hankins, is the brother of actor/filmmaker, Neill Barry (Friends and Lovers).

He has since had a small role in 'The Notebook' (2004) which was directed by Nick Cassavetes who played Packard, along with Matt as the Casting Director.

He also starred opposite Jill Clayburgh in Bernaro Bertolucci's LUNA
Bogus Trivia
There's often fake stuff floating round, y'know? -Like the 'ghost boy' that can allegedly be seen in "Three Men And A Baby".
But, nothing bogus that we know yet for "The Wraith".
Next: Behind The Scenes
Or use the menu to select another option
1986 Allied Communications
1999-2018 fast-rewind.com
V4.0b Powered by Rewind C21 CMS