FILMFACTS
PRODUCTION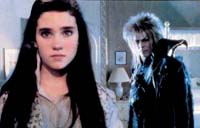 Production
Go behind the scenes on the 1986 Family movie starring David Bowie, Jennifer Connelly, Toby Froud More Cast
We believe the following info is all legit. If it's bogus or you have additional info, please update us.
Thanks to
Mak Wilson - Puppeteer/CGI Animation Director With Jim Henson'S Ceature Shop
It took 4 puppeteers to perform Hoggle's face - I know because I was one of them!
The baby who plays Toby is Toby Froud, son of Brian Froud, who drew the sketches and art for this movie and The Dark Crystal. Originally, a baby was picked to play Sarah's brother "Freddie". Unfortunately, the child was terrified of the goblins. Toby Froud, however, had grown up with them so he was chosen to replace him. Only problem was, he wouldn't respond to "Freddie". The script was changed, so when Sarah calls out "Toby" he turns around.
Before David Bowie was cast for the part of Jareth, Jim Henson also had in mind Sting, Mick Jagger and Michael Jackson for the part.
This movie was produced by George Lucas, the Creator of "Star Wars".
The Shaft of helping hands consisted of 40 human hands and 40 "Supporting Role" hands.
Gates McFadden, the actress who played Dr. Beverly Crusher on "Star Trek: The Next Generation," was part of the Labyrinth creative team. She choreographed the Ballroom scene, teaching Jennifer steps in order to dance with the others. Gates is her middle name and she is billed in the credits by her first name: Cheryl. It wasn't until later that she went by Gates.
Another major behind-the-scenes player in Labyrinth was juggler Michael Moschen. Moschen worked as the hands of Jareth in all those crystal ball scenes.
The set for Goblin City included the biggest panoramic back-cloth ever made up to that time.
Look out for three bottles of milk outside Jareth's Castle. Placed there by the crew as a laugh, Jim Henson decided to leave them there.
A very expensive Panaflex movie camera was dropped into the Bog of Stench and ruined. The Bog also claimed a lot of clothing as any stains REALLY couldn't be removed!
Next Section: Deleted Scenes
Deleted Scenes
There are often scenes cut from the final version of a movie. Sometimes these will have been seen by preview audiences, or be included in Blu-ray or DVD extras etc.
The following missing scenes from Labyrinth are believed legit. If you disagree or have additional info, please update us.
I read in the info for the movie a scene to the song "Frist Kiss" by David Bowie was cut because the test audience didn't like Bowie kissing Connelly, as she and her character were underaged!

This cut the movie a whole six minutes!
Next Section: Alternate Versions
Alternate Versions
Sometimes, there will be several versions of a movie floating about on cable, tv or video etc. Other times, a Director may release a special cut of the movie on Blu-ray or DVD.
Aw, man.. We don't know of
any
alternate versions of "Labyrinth". If
you know
better, please
add one
for others to enjoy.
It's quick & easy
Jump To: Filming Locations
Or use the menu to select another option
1986 The Jim Henson Company
1999-2018 fast-rewind.com
V4.0b Powered by Rewind C21 CMS