MISTAKES
BLOOPERS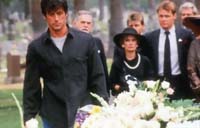 Oooopsy...
"Er, someone wasn't on top of their game that day..."
See the goofs, blunders and plain ole mistakes in the 1987 Action / Adventure movie starring Sylvester Stallone, Robert Loggia, Susan Blakely More Cast
We believe the following are all legit mistakes. If we've bungled it, or you have additional info, please update us.
The PA announcer keeps reminding us that it is a, "Double Elimination Tournament - lose twice and you're out." This explains why Stallone is still in it after he loses to the crazy bearded guy, but what about Bull Hurley. Why is the tournament over after Stallone wins? If it is double elmination, Hurley should have got another shot.
"Hawk" becomes "Hawkes" in the middle of the movie, and returns to "Hawk" again for the arm-wrestling climax.
When Mike takes the white pick-up and stops at the stop sign his window is rolled down and when he takes off, his window is rolled up.
Just after they stop at the truck stop as they drive away, they drive on the wrong side of the yellow line.
When Hawk and his son are walking to the final match, the audio used for his son is from the speech he gave his father in the scene before. He could be heard saying, "You weren't talking about me, you were talking about you," although the audio is lowered.
When Mike is driving the white pick-up on the freeway, the inside of the cab is shown, and there are no keys in the ignition.
Just before Mike Jumps out and runs away, you can see through the grill (behind them in the truck) that they are passing parked cars but as soon as Hawk stops, they are on a busy freeway with NO PARKED CARS!
The hawk or eagle on the front of his tractor trailer disappears/reappears
Bogus Blunders
Sometimes an apparent goof is not a real mistake
But, nothing bogus that we know yet for "Over The Top".
Next: Some Extra Goodies
Or use the menu to select another option
1987 Cannon Films
1999-2018 fast-rewind.com
V4.0b Powered by Rewind C21 CMS