Oooops...
Oooops...
Howard the Duck Bloopers & Goofs
AKA: Howard, a new breed of hero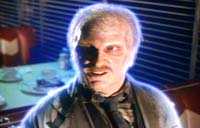 1986
Contributed by: Ron Hubbard
Towards the end Dr. Jennings is shouting for Howard to reverse the ray and to send the Dark Overlords back to where they belong. Howard does this, resulting in a whopping big explosion. When it's all over he finds his two friends Beverly and Phil amidst the wreckage but Dr. Jennings is gone; not to be seen, found, mentioned, or even thought about ever again-- he simply vanished from the film. What happened to him?
In the scene where Howard and Philsie are flying the plane, while its smoking and Phil is fixing the motor, in the next shot when Howard's mouth is open you can see the actors nose and mouth.

Also, when they hit the streets, while the cops are chasing them and the blue pickup truck is in front of Howard and he yells and flies up you can see the actor's whole mouth.