Oooops...
Oooops...
Howard the Duck Bloopers & Goofs
AKA: Howard, a new breed of hero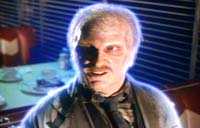 1986
Towards the end Dr. Jennings is shouting for Howard to reverse the ray and to send the Dark Overlords back to where they belong. Howard does this, resulting in a whopping big explosion. When it's all over he finds his two friends Beverly and Phil amidst the wreckage but Dr. Jennings is gone; not to be seen, found, mentioned, or even thought about ever again-- he simply vanished from the film. What happened to him?
Seen a blooper in Howard the Duck?
Use our simple iRewind system to add a new movie mistake to this page in just a few clicks.

Click here to start...