REWIND
REVIEW

"
He's just turned 18. And it's time to turn a dream into reality.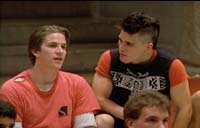 Starring
Matthew Modine, Linda Fiorentino, Michael Schoeffling, J.C. Quinn
Ronny Cox, Harold Sylvester, Charles Hallahan, Daphne Zuniga, R.H. Thomson, Gary Kasper, Raphael Sbarge, Forest Whitaker, Frank Jasper, Roberts Blossom, James Gammon, Judith Hansen Update Cast
Early Appearances
See Forest Whitaker before they were famous!
Cameos
Look for Andrew Shue, Madonna, Terry Davis making a cameo appearance!
The film was originally to be titled "Crazy For You", a title it did retain in Europe, after the hit song on the soundtrack performed by Madonna.

Madonna made her first film appearance ever singing "Gambler" and "Crazy For You" in the club scene.
More Trivia from Vision Quest
Review
There is no tomorrow. And if you really want to live a fulfilling life, you have to believe that. If you keep putting off what it is you want to accomplish in your life, then before you know it your chance will have passed.

"Carpe Diem" -Seize the day ...And make the most of it.

You've got one life to live, and what you do with it is up to you.

That is what Louden Swain believes. An innocent, eccentric highschool wrestler, Louden (Matthew Modine) has come to the realization that so far in his eighteen years on this planet he hasn't really conquered any challenges. But now he's willing to try.

With support from his best friend Kuch (Michael Schoeffling) and his coworker, a cook named Elmo (J.C. Quinn), he decides to go through with a vision quest i.e. a solitary ambition to find ones place in the sun by beating the odds. He figures the way to do this is to drop twenty-three pounds till he's down to 168 and is able to compete against Shute, perhaps the best highschool wrestler in the whole state of Washington.

A rather determined young man, it seems the only thing Louden thinks about is wrestling... until Carla (Linda Fiorentino) comes along. Now all Louden thinks about are wrestling and Carla!

She's twenty-one, beautiful, and tough. However, she threatens Loudens determination. Louden starts to feel he can settle for not competing in the wrestling match as long as he has Carla, but that's not what she wants for him. An aspiring artist herself, Carla knows the importance of going through with one's dreams and will not allow Louden to quit, no matter what.

Similar to "Top Gun" and "Flashdance" in that this film incorporates an 18-year-old trying to beat the odds to make a name for themselves, while at the same time being in a complicated relationship with a lover older than them, this film does a great job of taking you through all of the emotions.

You can feel the romantic chemistry between Louden and Carla. You can feel the stress of the competition and you can feel the raw ambition of a young man who's coming of age.

This is also one of those films where you feel the characters are one of a kind and you really wish you had the chance to get to know them in real life.

There are a lot of memorable quotes in this films, such as:

LOUDEN: "She's got all the best things I like in girls and all the best things I like in guys."

CARLA: "Part of being a man a**@$&! is knowing what a woman wants and respecting that. And part of being a kid is you can say something really stupid and still not get your face kicked in for saying it."

ELMO: "It ain't the six minutes. It's what happens in those six minutes."

There are also a lot of memorable scenes in this film, including a club scene where the world first got to get a glimpse of Madonna singing her heart out in a movie. An inspiring film, Vision Quest is a great two hours spent to boost your morale.
Author:
Bridgette Marie
Update This Review
Verdict
I have a soft spot for this film. I've always yearned to be a drifter like Carla, seeing the world and soaking up everything it has to offer me.

I also always admired the character of Louden. Determination can be really sexy in a person. This film reminds me a lot of "Flashdance", which I also love, and watching it is very tranquil yet realistic at the same time. It's just a really captivating and romantic film.
Great acting, excellent music, and great locations. Very realistic and heartwarming.

Perhaps this is more of what you'd call a chic flick, but I don't see why guys and girls alike couldn't both find aspects of the film that they enjoyed.
Rewind Rating
The Movie Data
Jump To: Music & Soundtrack Vibes
Or use the menu to navigate
1985 Warner Bros.
1999-2020 fast-rewind.com
V4_27 Powered by Rewind C21 CMS