REWIND
REVIEW

National Lampoon's Vacation
"
Every summer Clark Griswold takes his family on a little trip. This year he went too far.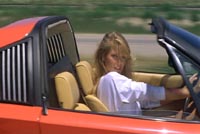 Starring
Chevy Chase, Beverly D'Angelo, Imogene Coca, Randy Quaid
Cameos
Look for Harold Ramis making a cameo appearance!
Review
Directed by 80's director/actor Harold Ramis ("Caddyshack, "Stripes", "Ghostbusters 1" & "2") National Lampoon's Vacation tells the hilarious story of The Griswold's family trip from their leafy suburban Chicago home to Wally World Theme Park in sunny California.

The film commences at a sterotypically dodgy car dealership where Clark Griswold (Chase) has gone with son (Michael Hall) to trade in the "old gas guzzler" and pick up the new "Antarctic Blue Super Sports Wagon with CB and optional family fun pack". The dealer... with fantastic permed mullet!... informs that the car won't be delivered for another six weeks and thus offers a dated family wagon instead, Griswold declines the offer initially but after seeing that his 'gas guzzler' has been crushed beyond repair, has no choice but to reluctantly accept.

This first 'deviation' from inept but sincere Clark's carefully plotted route across the West is the first of... well, nothing goes according to plan... yet Clarke keeps cracking the goofy remarks regardless of his predictiment, be it lost in a Harlem-like neighbourhood, or when he accidentally kills the dog, then the sour Aunt Edna perishes, they lose all their holiday money and wreck the new car... of course they haven't got to Wally World yet for the hysterical conclusion where Clark finally snaps and the fun really starts!
Author:
Stuart Fitzgerald
Update This Review
Verdict
National Lampoon's Vacation is a classic big studio 80's family comedy, it is definitely a product of it's time... one scene which highlights this is when Chevy Chase's character takes a black security guard hostage and commands him like a dog... sit, down, stay, etc.

Another scene has the young daughter, aged 12 smoking marijuana, it is unlikely that these scenes would appear in big studio family comedies of the 90's and Millennium.

The wardrobe for the film is great with the cast adorned in pink & green LaCoste polo shirts, Converse footwear and plenty of other top 80's gear. Christie Brinkley is the archetypal 80's babe.

Vacation is filled with imagery and artefacts of the decade and is a throughly enjoyable, fun movie.
Very silly and very funny movie with a great cast and many comic moments.

Not for 'high brow' movie lovers!
Rewind Rating
The Movie Data
Jump To: Music & Soundtrack Vibes
Or use the menu to navigate
1983 Warner Bros.
1999-2020 fast-rewind.com
V4_27 Powered by Rewind C21 CMS