MISTAKES
BLOOPERS

National Lampoon's Vacation Goofs
"
Every summer Clark Griswold takes his family on a little trip. This year he went too far.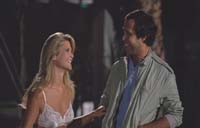 Oooopsy...
"Er, someone wasn't on top of their game that day..."
See the goofs, blunders and plain ole mistakes in the 1983 Comedy movie starring Chevy Chase, Beverly D'Angelo, Imogene Coca, Randy Quaid
We believe the following are all legit mistakes. If we've bungled it, or you have additional info, please update us.
When Clark has his talk with Rusty on the hill, his glasses fall apart. In the next scene they are repaired with tape in the middle.
In the scene where they are leaving Aunt Edna on the back porch and saying a prayer in a few of the shots as Beverly D'Angelo is speaking you can see the boom mike in the lower part of the screen.
In the beginning of the movie, when Clark and Rusty pull into the car dealership, it states that they are in Chicago. However, if you look in the background, you can see palm trees! The dealership at was actually filmed on Brand Blvd. in Glendale, CA ---hence the palm trees.
The family truckster has no license plates or temporary tags throughout the entire movie.
When the family truckster pulls up in Dodge City, Kansas, the upper left brake light isn't working. Later, as the car skids to a halt after crashing through the "Road Closed" sign, the upper left brake light is working again.
At Cousin Eddie's house, when he introduces his youngest daughter, he says she was born without a tongue. The same scene a few seconds later, we can see her moving it around.
Thanks to
Harold Dilworth
In the scene driving on the bridge in St. Louis, the arch is facing north and south instead of east and west.
When the Griswald's are saying goodbye to everyone before their trip, look carefully at the top of the car in the garage. You will see there is no luggage on the top of the car. When they start to back up the luggage magically appears.
In Kansas at cousin Eddies, Rusty asks his cousin if he has Pac Man. His cousin says no, the scene later when they looking at the magazines, there is a Pac Man game on the bed
Bogus Blunders
Sometimes an apparent goof is not a real mistake
The following goofs for "National Lampoon's Vacation" are apparently bogus. If you disagree or have additional info, please update us.
At the beginning of the movie when Clark and Ellen are in the kitchen cleaning up the dishes. Ellen is pushing the food off the plates with a spoon, and Clerk is wiping them off with a dish towel and then putting them in the cabinet . Never once do they actually wash the dishes. Ewww !!!

-Its not a goof. That's the joke, putting the dishes away dirty.
Next: Some Extra Goodies
Or use the menu to navigate
1983 Warner Bros.
1999-2020 fast-rewind.com
V4_27 Powered by Rewind C21 CMS