FILMFACTS
TRIVIA

Killer Klowns from Outer Space Trivia
"
Horrific Harlequins with an appetite for close encounters!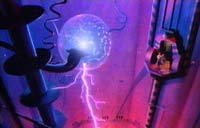 Totally Trivia
Film facts for the 1988 Horror / Occult movie starring Grant Cramer, John Vernon, Suzanne Snyder, Peter Licassi
John Allen Nelson, Royal Dano, Michael Siegel, Irene Michaels, Karla Sue Krull, Brian Degan Scott, Danny Kovacs, Adele Proom, Howard Malpas, Karen Raff, Kathleen Stefano, Claire Bartle, Sharon O'Mahoney, Michael Halton, Lucinda Burgess Update Cast
We believe the following trivia is all legit. If it's bogus or you have additional info, please update us.
Four characters including Mike Tobacco, Joe Lombardo, and the Terenzi Brothers Rich and Paul were based on real-life childhood friends of the Chiodo Bros, names and all. Mike's full name however is only mentioned in the end credits as well as characters Debbie Stone, and Officer Dave Hansen although a close-up of Dave's uniform in one shot reveals the name tag "Hansen", giving the hero more identity.
To give a tribute to Hitchcock, the director, Stephen Chiodo, mimicked "Psycho's" bloody shower drain with a toilet bowl swirl.
Suzanne Snyder, who plays Deb, also co-starred in John Hughes' "Weird Science" as, again, a girl named Deb.
The actor John Vernon also had a bit role in Keenan Ivory Wayans 1988 movie "I'm gonna git you sucka" (he played the crime boss 'Mr.Big' at the movies end); he also starred in the comedy classic "Animal House" as the Dean of the college.
Royal Dano (Hillbilly with the dog) and John Vernon (the bully police officer) both appeared in Clint Eastwood's "The Outlaw Josey Wales".
Actor Royal Dano also starred as the benevolent "Gramps"...a 170 year old wild-west zombie in "House 2: The Second Story".
The Chiodo Brothers also designed the 'Krites'...the tiny, savage and perpetually hungry sagebrush-like aliens seen in 'Critters 1,2,3 and 4'.
A pre-"Titus" star Christopher Titus [in glasses] has a small role as a sarcastic college student caught drinking a beer while crossing the street by John Vernon.
In the 1997 PC first-person shooter 'BLOOD', one of the levels features a circus village. The main character enters a large circus tent and there is a huge figure of the clown 'Jo-Jo' from Killer Klowns. Step on the nearby stage and you are treated to a voice chanting 'We Want Jo-Jo... We Want Jo-Jo'. It has nothing to do with the plot of the game, just the game writers paying homage to the film, I guess!!
Grant Cramer (Mike) is the son of Terry Moore, the Hollywood contract actress who was allegedly the secret wife of Howard Hughes.
Thanks to
Antonio Gonzalez Jr.
Royal Dano's voice was best known at Disneyland and Disney World as the voice of Abraham Lincoln. Sadly, at Disneyland, they re-did the show with another voice talent.
Bogus Trivia
There's often fake stuff floating round, y'know? -Like the 'ghost boy' that can allegedly be seen in "Three Men And A Baby".
But, nothing bogus that we know yet for "Killer Klowns from Outer Space".
Next: Behind The Scenes
Or use the menu to navigate
1988 MGM
1999-2020 fast-rewind.com
V4_27 Powered by Rewind C21 CMS