REWIND
REVIEW

Killer Klowns from Outer Space
"
Horrific Harlequins with an appetite for close encounters!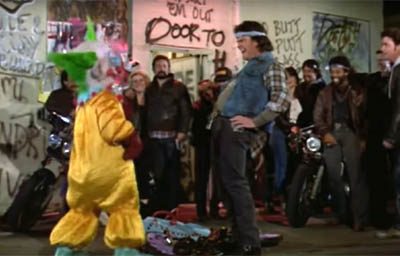 Starring
Grant Cramer, John Vernon, Suzanne Snyder, Peter Licassi
John Allen Nelson, Royal Dano, Michael Siegel, Irene Michaels, Karla Sue Krull, Brian Degan Scott, Danny Kovacs, Adele Proom, Howard Malpas, Karen Raff, Kathleen Stefano, Claire Bartle, Sharon O'Mahoney, Michael Halton, Lucinda Burgess Update Cast
Early Appearances
See Christopher Titus before they were famous!
Cameos
Look for Charles Chiodo making a cameo appearance!
Review
Welcome to our Late Night Horror Fest with your host, Dark Devil. Tonight we are showing a grim tale of terror set in a small quiet town. So put away the remotes, sit back and grab some cotton candy, because we are going to bring out the Klowns....

Itís Friday night and there is nothing better to do except go with that special someone to make-out point. Hereís where we join our main characters, Deb and Mike, just two average American teenagers making out and stargazing.

Suddenly, from outer space, comes a bright comet and Deb being the curious type wants to investigate the crash. So over the hill and into the woods they go, hoping for a little excitement. Eventually they find the crash site, but thereís no comet. Thereís only a strange Circus Tent full of Demented and Dangerous Killer Klowns. So Deb and Mike, after some detective work, find out that the Killer Klowns have come to turn us into cotton candy and take over the world.

Now they must escape and survive long enough to inform the authorities, it's their mission to stop the Klowns before they wreak havoc on their small town.

Will someone believe them? Will they live long enough to save the world, or will the Klowns turn them into refreshments?

Only you, the faithful viewer, will know for sure...
Author:
Marty
Update This Review
Verdict
I did not get to see this film in 1988, but did catch it years later on one of those late night horror shows that are always on.

I loved it! It was funny, gory and horrible. What else could you want in a comic Horror film ?!!?

This is a great cult film, so go rent it because it is only available currently in the U.S.
Great concept, good effects and an entertaining plot.

The plot isn't that strong, but what horror plot is?
Rewind Rating
The Movie Data
Key Crew
Director: Stephen Chiodo
Writer: Charles Chiodo, Edward Chiodo, Stephen Chiodo
Producers: Charles Chiodo, Edward Chiodo, Stephen Chiodo, Paul Mason, Christopher Roth, Helen Sarlui-Tucker
Locations Manager: Ellen Lent
Update The Crew
The Movie Trailer
Jump To: Music & Soundtrack Vibes
Or use the menu to navigate
1988 MGM
1999-2020 fast-rewind.com
V4_27 Powered by Rewind C21 CMS