FILMFACTS
TRIVIA

All the Right Moves Trivia
"
Tom Cruise has all the right moves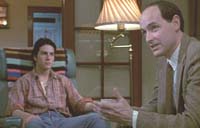 Totally Trivia
Film facts for the 1983 Teen Drama movie starring Tom Cruise, Craig T. Nelson, Lea Thompson, Charles Cioffi
Gary Graham, Paul Carafotes, Chris Penn, Sandy Faison, James A. Baffico, Mel Winkler, Walter Briggs, George Betor, Leon, Jonas Chaka, Keith Diamond Update Cast
We believe the following trivia is all legit. If it's bogus or you have additional info, please update us.
Writer Michael Kane also wrote the movies "Southern Comfort" and "The Dirty Dozen: The Next Mission"
Rifleman who was played by Walter Briggs really played high school football at Hackensack High School. In fact, after he graduated from Hackensack High, the movie was being filmed that summer and Walter was due into training camp at Montclair State College (now University). After he filmed his parts in the movie he joined his Montclair State College teammates in Upper Montclair, NJ where he had a successful 4-year career as quaterback for the Indians (Now the Red Hawks). Walter Briggs also went on to play a short stint with the New York Jets as a quarterback during the strike season. Those perfect spirals one sees in the movies are the way he actually threw in college. A great athlete and a great person also. This was his only movie credit.
A reference is made to this movie in the 1996 horror thriller 'Scream' with Rose McGowan's character, Tatum, telling Neve Cambell's character, Sydney, she want's to rent a video - "I was thinking, Tom Cruise in 'All The Right Moves' ...You know, if you pause it just right, you can see his p*nis!!" The writer, Kevin Williamson, recieved more questions about that line than any other in the movie.
Chris Penn, who played Stefs best friend, sadly passed away a few years ago.
The movie is also known as "All Right"
Terry O'Quinn (John Locke of Lost TV series newly enjoyed fame) makes an appearance as Freeman Smith
Almost all of this movie was filmed in Johnstown, PA. - a real all amercian steel town! You could still go there today and it looks almost identical to what it was back then!
Near the beginning of the film, while talking about his potential college coaching job, Nickerson mentions that it is between him and "you know who" from Aliquippa. The real-life coach of Aliquippa HS at the time the movie was made was 'Donald Yannessa', who portrayed the Walnut Heights coach.
Alledgedly, it was originally only supposed to be Lea Thompson who would be nude during their love scene. When Tom Cruise read it, he said that was not fair, and so that is why both are nude in that part of the film.
Keith Diamond, who played Fox - one of Stef's teammates - also played a male nurse in "Awakenings" starring Robin Williams. Shadow, another one of Stef's teammates was played by Leon, who went on to star in the Madonna video "Like a Prayer."
Charles Cioffi, who played Stef's dad, previously starred in "Klute" as Donald Sutherland's psycho boss/colleague.
Bogus Trivia
There's often fake stuff floating round, y'know? -Like the 'ghost boy' that can allegedly be seen in "Three Men And A Baby".
But, nothing bogus that we know yet for "All the Right Moves".
Next: Behind The Scenes
Or use the menu to navigate
1983 20th Century Fox
1999-2020 fast-rewind.com
V4_27 Powered by Rewind C21 CMS