MISTAKES
BLOOPERS

All the Right Moves Goofs
"
Tom Cruise has all the right moves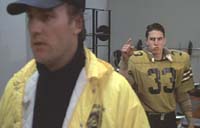 Oooopsy...
"Er, someone wasn't on top of their game that day..."
See the goofs, blunders and plain ole mistakes in the 1983 Teen Drama movie starring Tom Cruise, Craig T. Nelson, Lea Thompson, Charles Cioffi
Gary Graham, Paul Carafotes, Chris Penn, Sandy Faison, James A. Baffico, Mel Winkler, Walter Briggs, George Betor, Leon, Jonas Chaka, Keith Diamond Update Cast
We believe the following are all legit mistakes. If we've bungled it, or you have additional info, please update us.
On the play in the Walnut Heights game just before the pass interference call there was a penalty flag thrown at the end of the run but no call was made.
In the movie, the bus is seen going down Eisenhower Blvd; making a right on Scalp Ave; going past Pizza Hut and finally ending up at Walnut Heights school (Johnstown Vo-Tech). Going down the hill and making a right is going away from the school, not toward it.
Ampipe football state champion references (which did not exist):

1. Ampipe team entering the visitors locker room before the Walnut Heights game, they are touching the state champs football (think it says 1963 on it).

2. The trophy case at Ampipe HS lists the football state champions shown behind Coach Nickerson when the 2 cops are arresting/escorting Salvucci out of the high school.

Pennsylvania Interscholasitc Athletic Association (PIAA) didn't offically start holding state playoffs and championship games until 1988. Prior to that, the only football championships in PA were at the distict level.
During Walnut Heights game... with around 3 minutes left to play in the 4th quarter - it starts to rain as they continue to wind the clock down the field begins to get obviously wet and muddy - at around the 1:30 mark or so the field is completely flooded.... (Now I understand that those last few minutes of a football game can be stretched into alot more but the amount of water that has accumulated on the field in that time is astronomical....)
Bogus Blunders
Sometimes an apparent goof is not a real mistake
But, nothing bogus that we know yet for "All the Right Moves".
Next: Some Extra Goodies
Or use the menu to navigate
1983 20th Century Fox
1999-2020 fast-rewind.com
V4_27 Powered by Rewind C21 CMS