REWIND
REVIEW

"
The story of a man who wanted to keep the world safe for democracy …and meet girls.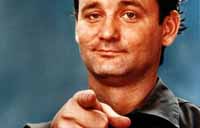 Starring
Bill Murray, Harold Ramis, Warren Oates, P.J. Soles
Sean Young, John Candy, John Larroquette, John Voldstad, John Diehl, Lance LeGault, Roberta Leighton, Conrad Dunn, Judge Reinhold, Antone Pagan, Glenn-Michael Jones, William Lucking Update Cast
Early Appearances
See Judge Reinhold, Bill Paxton before they were famous!
Cameos
Look for Dennis Quaid making a cameo appearance!
Review
After the success of the 1979 Canadian film "Meatballs", Bill Murray and director Ivan Reitman reunited for "Stripes", a film that focuses on lazy Army recruits. The main characters are John Winger (Murray) and his buddy Russell Ziske (Harold Ramis).

John has just lost everything, including his job, his girlfriend and his apartment. Russell has just become a school teacher teaching a group of students who speak very little English. When John sees a campaign for the US Army on the TV, he decides he wants to join and convinces Russell to join too, hoping to get some chicks.

But after signing up, John and Russell get more than they bargained for when they meet Sgt. Hulka (Warren Oates). They also meet recruits such as Ox (John Candy), who has joined just to lose weight and Psycho, who is so mad that he'll kill anyone, even his fellow recruits, who bothers him. All of Hulka's men, including John, are among the wildest, stupidest recruits that have ever enlisted in the Army.

At one point during training, Sgt. Hulka is injured in a freak accident and John decides to give the recruits the rest of the night off and they all wind up at a strip club where they get arrested. When they return to the barracks, they are informed that they graduate the following morning and they may have to do basic training all over again.

Now, John is the kind of guy who either gets the other recruits in trouble or saves the day, as he takes over as drill sergeant and tries to get the other recruits in shape overnight.

Of course, they oversleep and wind up missing some of the ceremony, but the overnight training pays off when they try to prove that they have what it takes to be real soldiers. The routine lands the troops in Italy, but just when they thought it was safe to throw a party…

…Sergeant Hulka recovers from his injuries and crashes it before they even get prepared for it. Hulka immediately assigns them to guard a top secret weapon vehicle, which has some useful techniques, but before midnight, the vehicle… and John and Russell… have all but disappeared. John and Russell have taken it for a "test drive" by going to Germany to see the female MP's and take them out on a double date.

Meanwhile, the other troops are searching for the secret weapon, but they wind up getting abducted and held hostage in Czechoslovakia. Now, John and Russell's patriotism is put to the test as they embark on the wildest adventure of their lives to rescue their fellow soldiers.
Author:
Philip Martin
Update This Review
Verdict
"Stripes" is definitely no "Private Benjamin," but the Army is funny as ever when Bill Murray plays the game. John Candy is also good in one of his earlier roles.
Defines the genre of military comedies in the 80s. Bill Murray at his best.

There's nothing wrong with this movie.
Rewind Rating
The Movie Data
Jump To: Music & Soundtrack Vibes
Or use the menu to navigate
1981 Columbia Pictures
1999-2020 fast-rewind.com
V4_27 Powered by Rewind C21 CMS