REWIND
REVIEW

"
The first Disney movie with attitude.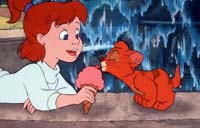 Starring
Joey Lawrence, Billy Joel, Cheech Marin, Dom Deluise
Sheryl Lee Ralph, Robert Loggia, Bette Midler, Natalie Gregory, Joseph Lawrence (II), Richard Mulligan, Roscoe Lee Browne, Taurean Blacque, Carl Weintraub, William Glover, Jonathan Brandis Update Cast
Oliver & Company marked the start of a new flood of feature-animation productivity by Disney, which had set itself the target of releasing one new full-length animated feature per year. This pattern of annual release had been a dream of Walt Disney's since the time of Snow White, but it wasn't realized until over two decades after his death.
More Trivia from Oliver & Company
Review
Like Huey Lewis's bluesy-sounding song states, anything can happen "Once Upon A Time In New York City." Dogs can sing, cats can find themselves millionaire owners and the viewers of this film can feel that it's a heartfelt, believable story.

"Oliver & Company" is Disney's rendition of "Oliver Twist" and is a much more entertaining, kids-version than the original. Granted, Charles Dickens was an amazing novelist, but his Old English is perhaps a little too complicated for most children today to understand. The characters in this animated film speak up-to-date streetwise-American English, not to mention they are much more adorable to children, being that they're all cuddly animals.

Oliver (Joey Lawrence) is an innocent, homeless kitten on the streets. He is alone and seemingly invisible to the world until the artful, Jack Russell Terrier, Dodger (Billy Joel) and his gang of friends, all dogs; including the feisty Chihuahua Tito (Cheech Marin), the lovely Irish spaniel, Rita, the burly English bulldog Francis and the dopey Great Dane, Einstein. The mutts are thieves who steal food to provide for their owner, a friendly bum named Fagin (Dom Deluise). Dodger uses Oliver to help him steal some hotdogs, while singing the hit "Why Should I Worry?" and now, the tiny kitten won't leave him alone. Oliver feels he's finally found himself a home.

While on another criminal escapade, Oliver gets stuck in the limo of a girl named Jenny Foxworth (Natalie Gregory) and the girl immediately falls in love with Oliver. What's not to love? Plenty, according to Georgette(Bette Midler), Jenny's lavender pet Poodle. Georgette is a conceited, award-winning pooch who has the gaul to sing "Perfect Isn't Easy". Jenny, however, ignores Georgette and relates through her song "Good Company" that she and Oliver are best friends.

Although Oliver is finally content, things aren't looking so great for his friend Dodger and the rest of the gang. A money-lender named Sykes (Robert Loggie) and his two Doberman Pinchers, Roscoe and Desoto, will kill Fagin and the dogs if they don't pay him a large sum of money, not to mention Tito is in love with Georgette and Jenny is heartbroken when the dogs steal Oliver away.

What happens at the end? Well, you just have to watch this cartoon classic to find out. Disney did a great job at making this an enjoyable film for both children and adults. Filled with music, laughter, and suspence, this film has all the recquirements to make it a Disney must-see.
Author:
Bridgette Marie
Update This Review
Verdict
This was one of the first animated films that I saw at the movies and really loved. It was my favorite cartoon for a long time, I was only 7 when it was first released and I remember being very disapointed that it took so many years to be released on video.

I had all the Oliver & Co merchandise, including a Georgette doll and I also had a Border Collie mix for many years that I named Dodger after the character in the film.

I enjoy watching this film as a nostalgia to my childhood. It brings back memories of such carefree days.
Excellent soudntrack, realistic animation, great actors. One of the first in a long line of many successful Disney films.

no weaknesses.
Rewind Rating
The Movie Data
Key Crew
Director: George Scribner
Writer: Roger Allers, Michael Cedeno, Jim Cox, Charles Dickens, Tim Disney, Mike Gabriel, Vance Gerry, Leon Joosen, Kevin Lima, James Mangold, David Michener, Joe Ranft, Gary Trousdale, Kirk Wise, Peter Young
Producers:
Locations Manager:
Update The Crew
Data
Release Date: 18 Nov 1988
MPAA Rating: G
Studio: Walt Disney
Production: Walt Disney Feature Animation, Silver Screen Partners III, Walt Disney Pictures
Genre: Kids
Update The Data
The Movie Trailer
Jump To: Music & Soundtrack Vibes
Or use the menu to navigate
1988 Walt Disney
1999-2020 fast-rewind.com
V4_27 Powered by Rewind C21 CMS