FILMFACTS
PRODUCTION

"
The first Disney movie with attitude.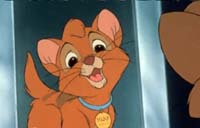 Production
Go behind the scenes on the 1988 Kids movie starring Joey Lawrence, Billy Joel, Cheech Marin, Dom Deluise
Sheryl Lee Ralph, Robert Loggia, Bette Midler, Natalie Gregory, Joseph Lawrence (II), Richard Mulligan, Roscoe Lee Browne, Taurean Blacque, Carl Weintraub, William Glover, Jonathan Brandis Update Cast
We believe the following info is all legit. If it's bogus or you have additional info, please update us.
It was the first film to have its own department set up expressly for the purpose of generating computer animation. Of course, computer animation had earlier played a part in The Great Mouse Detective, but with Oliver & Co it began to come into its own, with just under 11 minutes of computer-assisted imagery used in combination with traditional hand-drawn character animation.
When asked about how the character of Oliver was created, supervising animator Mike Gabriel had this to say: "...the original concept was to make him a little older, more of a gangly teenager. But we quickly discovered that an innocent waif on the street was more sympathetic and vulnerable if he was played younger. By studying some of the classic Disney characters like Thumper in Bambi, we learned that young characters didn't have to be cloying or just a cute ball of fur. They worked because they were sincere and genuine. That's what we wanted for Oliver."
I think Jeffrey Katzenberg's status as a native New Yorker was a big influence on this film! (just a guess)
When asked how they created the character of Dodger, supervising animator Andreas Deja had this to say: "In desigining the character of Dodger there was a natural tendency in the beginning to model him after Tramp since both are happy-go-lucky street dogs. But we wanted Dodger to have a unique look, so we gave him a rougher and scroungier appearance that seemed to fit in with the city setting."
Tad Gielow, the movie's head computer graphics engineer, had this to say about the movie: "Animating with a computer is like building a set. It may take a day or a week to compose a single frame or model, depending on its complexity. But once it's built, you can change the camera angle or revise the scene in no time at all."
Cheech Marin, the voice of Tito, said he read about 75 percent of his lines and improvised the other 25 percent. Cheech urged the movie makers to give his character of Tito a song, but they declined. The full name of "Tito" is Ignacio Alanzo Julio Federico de Tito.
The director of Oliver & Co, George Scribner, had this to say: "Because the city itself is, in some respects, another character in the picture, we wanted it to be realistic with lots of movement and traffic; not just static backgrounds. The computer has enabled us to generate the rhythm and action that goes with an urban center and then animate our characters on top of it."
Tito's supervising animator Hendel Butoy remarked in an interview with Charles Solomon for the Los Angeles Times that "Cheech was very animated while he was recording--Tito's expressions and body language were all there. But if I hadn't seen him, his voice would have been enough. The energy and spontaneity and entertainment value he put into his readings were very inspirational."
The supervising animator Glen Keane summarized the resulting character of Sykes very well" "We wanted him to be a solid, powerful guy who is seen mostly in shadow. He is personified by his car. We found it was much more intimidating if we didn't show him in light all the time. Also suggesting a sense of power are his hands, which are big, meaty mits with bratswurst-like fingers--yet they are very dexterous and delicate. In fact, his hobby is building models of his car."
Next Section: Deleted Scenes
Deleted Scenes
There are often scenes cut from the final version of a movie. Sometimes these will have been seen by preview audiences, or be included in Blu-ray or DVD extras etc.
Shucks.. We don't know of
any
cut scenes from "Oliver & Company".
Can you help?
Please
add one
for others to enjoy.
It's quick & easy
Next Section: Alternate Versions
Alternate Versions
Sometimes, there will be several versions of a movie floating about on cable, tv or video etc. Other times, a Director may release a special cut of the movie on Blu-ray or DVD.
Aw, man.. We don't know of
any
alternate versions of "Oliver & Company". If
you know
better, please
add one
for others to enjoy.
It's quick & easy
Jump To: Filming Locations
Or use the menu to navigate
1988 Walt Disney
1999-2020 fast-rewind.com
V4_27 Powered by Rewind C21 CMS