REWIND
REVIEW

"
He's not just some guy, he's Bruno X!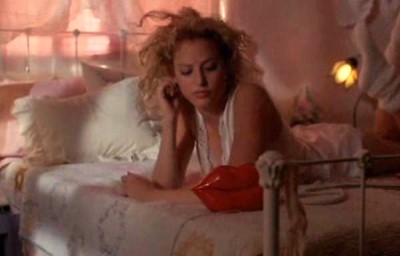 Starring
Cynthia Gibb, Virginia Madsen, Daphne Zuniga, Clayton Rohner
Review
"Modern Girls" is the kind of period piece that completely defines the 80's.

From the new wave soundtrack to the wild colors and neon lit nightlife of Los Angeles, circa 1986, you can feel yourself being transported back in time.

Kelly, Margo and CeCe are blond, redhead and brunette roomates who have seemingly mundane lives during the day, but at night, the crazy outfits, make-up and attitudes come out and the girls become party queens who make the scene all over town.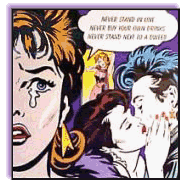 CeCe (Cynthia Gibb) is the extrovert one and she's just been fired, so all she wants to do is let loose tonight at one of LA's nitespots.

She pursuades Margo (Daphne Zuniga) to go with her but they have no wheels because Kelly has taken the car.

Just as the evening looks in jeapordy, Kelly's nerdy forgotten date rolls up at the door up in the form of geeky Clifford (Clayton Ruhner of "Just One Of The Guys").

CeCe and Margo realise that Cliff offers the transport that they need, so they all head off into the night...

Their journey takes them deep into the nightlife of LA and to Club Voodoo, home of exotic fruit drinks, limbo dancing and the occasional food fight.

While at the club, CeCe meets the rock star of her dreams, and the night unfolds following the misadventures of these crazy ladies partying their way around the L.A. club scene.
Author:
Monica Salazar
Update This Review
Verdict
While the plot and script borders on cheesy, if you appreciate retro music, fashions and decor, you'll love this film. The film was shot on location all over Hollywood and Melrose, and really captures the mood of the time. Design buffs will love the girls' apartment, decked out with lots of leopard print and boomerang furniture.

The awesome music in this film includes "But Not Tonight" by Depeche Mode, The moody masterpiece "No Promises" by Aussie wavers Icehouse, The contagious dance ditty "Iko Iko" (also in "Cocktail") and other cool songs.

Modern Girls works best as a period piece and easy entertainment, rather than serious film fodder. In it's cheesiness lies it's beauty and serves as a perpetual flame for everything the 80's was about: music, fashion and fun.
music, fashions, Decor and design, nightclub interiors.

plot, script, bad jokes.
Rewind Rating
The Movie Data
Jump To: Music & Soundtrack Vibes
Or use the menu to navigate
1986 MGM
1999-2020 fast-rewind.com
V4_27 Powered by Rewind C21 CMS