FILMFACTS
PRODUCTION

"
Where enemies are made, reputations are earned, and love is the most risky affair of all.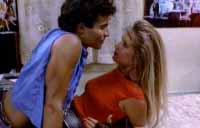 Production
Go behind the scenes on the 1985 Action / Adventure movie starring James Spader, Kim Richards, Paul Mones, Matt Clark
Claudette Nevins, Robert Downey Jr., Olivia Barash, Panchito Gómez, Michael Wyle, Catya Sassoon, Francis X. McCarthy, Art Evans, Herb Mitchell, Ceil Cabot, Donald Fullilove, Vivian Brown, Bill Beyers, Jered Barclay, Lou Fant Update Cast
Bogus! No backstage stories?! If
you know
one, please
add it
for others to enjoy.
It's quick & easy
Next Section: Deleted Scenes
Deleted Scenes
There are often scenes cut from the final version of a movie. Sometimes these will have been seen by preview audiences, or be included in Blu-ray or DVD extras etc.
The following missing scenes from Tuff Turf are believed legit. If you disagree or have additional info, please update us.
As I posted in another thread, my wife (then fiancee) and I were in this movie: she was the stand-in for Claudette Nevins' character, and I did some stand-ins for Paul Mones. We did a bunch of extra scenes and walk-throughs (she was a doctor who checks on a patient, then walks up the corridor in the hospital scene) as well.

There was an original ending to the film shot at the high school where Paul's character goes postal with a pistol. At one point, he happens upon a young couple; the young man throws his sweetie down to the ground and shields her with his body. Then as Paul passes, his interest clearly elsewhere, the young man scoops up the girl, and they both boogie off into the background at top speed.

That was me and my wife of 25 years, and unfortunately, an alternate ending was chosen, so the scene ending up on the proverbial cutting room floor. I do lay claim to it, however, as I was the one who suggested it to Pat Kehoe (super nice guy), and he went with it.

I would love to find it somehow, and show it to our four kids...
Next Section: Alternate Versions
Alternate Versions
Sometimes, there will be several versions of a movie floating about on cable, tv or video etc. Other times, a Director may release a special cut of the movie on Blu-ray or DVD.
Aw, man.. We don't know of
any
alternate versions of "Tuff Turf". If
you know
better, please
add one
for others to enjoy.
It's quick & easy
Jump To: Filming Locations
Or use the menu to navigate
1985 New World Pictures
1999-2020 fast-rewind.com
V4_27 Powered by Rewind C21 CMS