FILMFACTS
PRODUCTION

"
It's everything you've dreamed of. It's nothing you expect.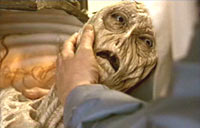 Production
Go behind the scenes on the 1985 Sci-Fi movie starring Don Ameche, Wilford Brimley, Hume Cronyn, Brian Dennehy
Jack Gilford, Steve Guttenberg, Maureen Stapleton, Jessica Tandy, Gwen Verdon, Herta Ware, Tahnee Welch, Barret Oliver, Linda Harrison, Tyrone Power Jr., Clint Howard, Charles Lampkin, Mike Nomad, Jorge Gil, James Ritz, Charles Rainsbury, Wendy J. Cooke Update Cast
We believe the following info is all legit. If it's bogus or you have additional info, please update us.
The moving scene where Grandpa (Wilford Brimley) fishes with his grandson was apparently totally improvised after Brimley suggested to the Ron Howard that his character talk freely to the boy rather than the originally scripted scene with fixed dialogue.
The night club scenes were filmed in the very popular & famous Tampa night club, of the mid 80's ...Confettti's
(listed as one of the top hottest nightclubs of the 80's).

Director Ron Howard, hand picked the professional dancers of the nightclub to be the background dancers in the movie.
Cocoon sprang from an unpublished novel by a relatively unknown writer named David Saperstein. Lili Fini Zanuck, wife of Hollywood legend producer Richard D. Zanuck saw something in the story and paid $2,500 for it, developing it into the $17 million project that would be her filmmaking debut.

Saperstein's novel has since been published.
According to the DVD commentary, Guttenberg and Welch's characters making love in the pool was filmed while a tropical storm raged outside.
During filming in Florida, in the early hours of Oct. 15, 1984 with Steve Guttenberg in the car, Brian Dennehy drove away from a Bennigan's on 66th Street N, made an illegal U-turn in front of a patrol car and was pulled over.

The officers report stated the actor "smelled strongly of alcohol, staggered as he walked and did poor on balance tests."

Since Dennehy was from out of state, he was only held overnight in the St. Petersburg city jail.
During production, the Florida Coast Guard was informed of suspicious nighttime activity on the gulf. Callers feared a possible Russian submarine, but it was only the crew filming on Jack/Guttenberg's charter boat.
During production, Florida police were called about wildlife molesters on the beach, which turned out to be crew members handling mechanical stunt dolphins!
The Florida Teamsters union protested the decision to fill jobs with mostly out-of-state workers. Days of negotiations and rumored intimidation by Teamsters resulted in Cocoon's transportation director returning to California, replaced by a local union member.
In the scene towards the end when Bernie comes to the boat to say goodbye, Ron Howard filmed another version where he went with them, but Ron ultimately decided during editing that him staying behind was the most dramatic and poignant version.
Next Section: Deleted Scenes
Deleted Scenes
There are often scenes cut from the final version of a movie. Sometimes these will have been seen by preview audiences, or be included in Blu-ray or DVD extras etc.
The following missing scenes from Cocoon are believed legit. If you disagree or have additional info, please update us.
The very first scene that was filmed didn't make the final cut. On Aug. 20, 1984, spectators gathered near Williams Park in downtown St. Petersburg where a stuntman rammed Ben/Brimley's white Cadillac into a sports car's rear bumper.

This presumably caused the DMV eye test, which he fails in a later scene.
Next Section: Alternate Versions
Alternate Versions
Sometimes, there will be several versions of a movie floating about on cable, tv or video etc. Other times, a Director may release a special cut of the movie on Blu-ray or DVD.
Aw, man.. We don't know of
any
alternate versions of "Cocoon". If
you know
better, please
add one
for others to enjoy.
It's quick & easy
Jump To: Filming Locations
Or use the menu to navigate
1985 20th Century Fox
1999-2020 fast-rewind.com
V4_27 Powered by Rewind C21 CMS