REWIND
REVIEW

"
It's everything you've dreamed of. It's nothing you expect.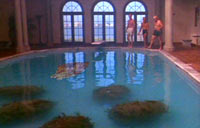 Starring
Don Ameche, Wilford Brimley, Hume Cronyn, Brian Dennehy
Jack Gilford, Steve Guttenberg, Maureen Stapleton, Jessica Tandy, Gwen Verdon, Herta Ware, Tahnee Welch, Barret Oliver, Linda Harrison, Tyrone Power Jr., Clint Howard, Charles Lampkin, Mike Nomad, Jorge Gil, James Ritz, Charles Rainsbury, Wendy J. Cooke Update Cast
While filming in Florida, the production had a big problem with the Cicadas, then in season and chirping so noisily that recording clean audio was impossible. Before Howard called "action," a crew member would fire a gun loaded with blanks to scare the insects into silence.

"You could get two or three minutes when they would shut up and you could actually shoot and record," Dennehy recalled. "That would be the last thing done before we'd roll the cameras."
More Making Of Cocoon
Review
What a wonderful thing it would be to swim in the fountain of youth?

Or in this case, a pool.

A group of elderly friends, living in a Florida retirement community, discover that the vacant home next door to their nursing home has a fabulous pool and start to use it.

In a later visit, unbeknown to them, the house has been let and strange barnacled boulders have now been added in the pool. After some deliberation, some of the old folks decide to proceed anyway and joyfully swim together.

Afterwards, to their amazement, they to begin notice vast mental sharpness and physical vitality, as though they shed 30 years from their bodies. They believe themselves to be growing younger as opposed to old and it doesn't take long for them to realise that its something to do with the pool...

It transpires that the pod-like forms at the bottom of the pool have been placed there by aliens. They are the cocooned alien survivors of the Atlantis disaster, and the aliens have come to recover them. The Aliens, called Antereans, are upset at the oldies use of the pool, because they have unwittingly sapped the life-force out of the pool and the pods.

After meeting and resolving this with the kind and charismatic Antereans, they are offered the most difficult ultimatum of their lives. Since the elders have discovered the secret of the youthful cocoons, they are offered to make a magnificent journey with the Antereans in return for their help in recovering the rest of the cocoons from the bottom of the ocean.

This means that the group of elders must decide to stay on earth and eventually die, or be transported to an unknown dimension where they will live forever, excluding the company of their families.

The main characters want to live long lives to witness the growth of their children and grandchildren that they may be deprived of if they choose to stay on earth. They all eventually make a pact to keep their findings a secret and decide to go away to an unknown world and become immortal.

Each elder faces a daunting scene in which they must tell a loved one their good-byes without revealing their destination and reasoning. A heartfelt scene is shared between grandpa Ben, (Wilford Brimley) and grandson David, (Barret Oliver), on a fishing trip. Brimley tells his cherished grandson that he is leaving and may not be back. This scene is so emotional because it is something every loved-one dreads; losing a family member.

After realizing the devastation that David may face to losing his grandparents, he sets off on a series of events to help get his grandparents and their friends to the Aneterans boat and set off to another world. David faces having to sneek out of his house and illegally drives past the retirement community security guards in order to set up an escape route for the elders.

The movie concludes with moving scenes that would surely touch even the most hard-hearted viewer

Goodbyes are always difficult in any occasion, but when you donít know if you will ever see the person again, itís even harder to fathom. The viewer feels a great deal of freedom and liberation as well as loss and regret, only hoping for a sequel to this outstanding movie.
Author:
Lisa Cione
Update This Review
Verdict
This movie makes you wonder if becoming immortal is worth not sharing it with your loved ones.

I will never forget watching this movie as a child with my grandparents and felt emotionally touched. I clung to my grandparents hopeful that they would never take up an offer to go away forever without any notice.

The characters in Cocoon are phenomenal. Many of the actors have now passed on, but their passion for acting and wonderful performances will immortally live on through this movie.

This movie is by far one of my all time favorites and deserves a nine out of ten. Although it doesnít include the typical brat pack, or teenage crisis plot, it does contain a heartfelt moral.

Cocoon was a refreshing movie to the 80ís movie era. It was also a segue way into the age of computer generated effects in moviemaking.
Heartfelt moral of love and life. Outstanding performances by (as what I like to call them), the "elderly brat pack" of the 80's.

There are some holes in the plot that can be found by cynical viewers.
Rewind Rating
The Movie Data
Jump To: Music & Soundtrack Vibes
Or use the menu to navigate
1985 20th Century Fox
1999-2020 fast-rewind.com
V4_27 Powered by Rewind C21 CMS