FILMFACTS
PRODUCTION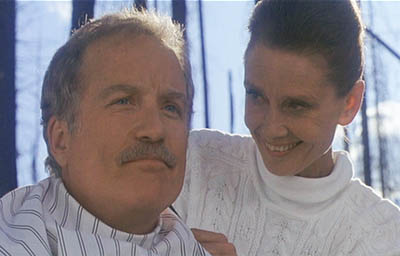 Production
Go behind the scenes on the 1989 Drama movie starring Richard Dreyfuss, Holly Hunter, John Goodman More Cast
We believe the following info is all legit. If it's bogus or you have additional info, please update us.
Today, I fly for Delta Connection Airlines and am based in Cincinnati, OH. "Always" was a big inspiration in my wanting to become a pilot. Recently I was flying into Billings, MT. The tower told us that the A-26 we saw parked on the ramp across from the terminal was one of the ones used in the movie. They have a museum over there and you can go see those aircraft today if you'd like.
The majority of fire fighting aircraft used in the movie were owned by Hawkins and Powers Aviation out of Greybull Wyoming.
Thanks to
Craig Happ / Steve
The A-26 aircraft that is flown by Pete was owned by Lynch Flying Service in Billings, Montana. That aircraft was still parked on the ramp at Billings in 1994, with the Fire Eaters logo intact. Not sure what became of it after Lynch went out of business.

Update from The Billings Gazette:

"The Lynch family sold the plane to a group of investors in Texas, he said. The plan is to take probably a couple of years to restore it and then fly it to air shows."

1-9-2010: "A little piece of history flew out of Billings on Saturday morning and ended an era in local aeronautics history. At about 11 a.m., a Douglas B-26K propeller airplane lifted off the runway at Billings Logan International Airport, circled the airport twice and then headed south to its new home."

Update kindly sent in by Pamela Cogland:

My sister and brother-in-law live in a Fly-in community in Locust Grove, GA. N4818E (59) is parked alongside the landing strip at Mallards Landing and is owned by one of the Pilots that live in the community.
"Tanker 57" (Pete's Plane), was later sold to Bob Pond and is now part of his collection in Palm Springs, Ca. It is now painted in WWII navy colors.
Some of the scenes with planes flying around and through the forest fires were taken from actual footage of the Yellowstone fires of 1988 that were ablaze at the time.
The twin-engine planes used in "Always" were called B-26's in the movie, but the plane(s) they actually used were A-26's. The A-26 came after the A-20 and at the end of the war going into Korea it became the A/B-26 Invader. Did ground attack, bombing and survellance(sp). The movie planes are converted A/B-26 Invaders. The Martin B-26 flew around the same time.
The aircraft being flown is a Douglas A-26 'Invader' (or B-26: depending on what the aircraft was used for, but this is a really trivial point) modified for aerial fire suppression. The aircraft was selected as an aerial tanker, because of its huge radial engines - which provide quick response time in the heat of 'battle'.The aircraft is not completely a relic, and many people still use them in the role of fire bombing; Airspray - based out of Red Deer, Alberta, Canada has a large fleet of A-26 aircraft employed during the fire fighting season...
Lots of egos in that town of Billings, Montana and unskilled pilots wanting to talk the title of pilot during filming. Denny Lynch was allegedly asked to leave the set many times due to his 'unprofessional and inflated ego'. In the end it all worked out and filming was completed.
The two airplanes used in 'Always' were chosen because Universal Studios had cockpit and fuselage sections of these types available on the back lot. These were used in all the close ups.

The Fire Eater logo on the A/B-26 was done by scenic artist/art director Eddie McAvoy.

Both these historic aircraft section were destroyed later when Universal needed space on the back lot. I was able to save one panel of the a-26 fuselage section. I was head of Universal's Scenic Department at the time the movie was made.
I was doing some work for the "Always" movie at the Libby, Mt. airport while one of the A-26's was having an engine refit.

I was, perhaps, twenty feet from the aircraft when they fired the new and old engines up. Certainly a howling beyond description.

One day I saw one of the A-26's flying west over Happy's Inn into a terrific sunset. Acquiring footage I assumed.

This last summer I was supplying ground soaking water to the Libby Airport to sop up the dust produced by a Chinook, a Blackhawk (Firehawk), three Huey's and some other odds and ends firefighting aircraft. I got to brag to the crews about my Always experiences.
Next Section: Deleted Scenes
Deleted Scenes
There are often scenes cut from the final version of a movie. Sometimes these will have been seen by preview audiences, or be included in Blu-ray or DVD extras etc.
Shucks.. We don't know of
any
cut scenes from "Always".
Can you help?
Please
add one
for others to enjoy.
It's quick & easy
Next Section: Alternate Versions
Alternate Versions
Sometimes, there will be several versions of a movie floating about on cable, tv or video etc. Other times, a Director may release a special cut of the movie on Blu-ray or DVD.
Aw, man.. We don't know of
any
alternate versions of "Always". If
you know
better, please
add one
for others to enjoy.
It's quick & easy
Jump To: Filming Locations
Or use the menu to select another option
1989 Universal Studios
1999-2018 fast-rewind.com
V4.0b Powered by Rewind C21 CMS