REWIND
REVIEW

"
They couldn't hear him. They couldn't see him. But he was there when they needed him...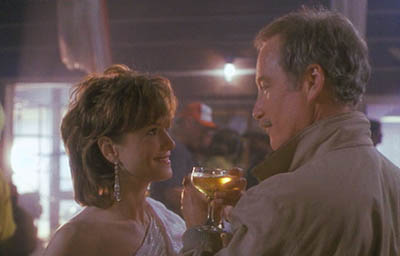 Starring
Richard Dreyfuss, Holly Hunter, John Goodman, Audrey Hepburn
Brad Johnson (II), Roberts Blossom, Keith David, Ed Van Nuys, Marg Helgenberger, Dale Dye, Brian Haley, James Lashly, Michael Steve Jones, Kim Robillard, Jim Sparkman, Doug McGrath, Shereil L. Bowens, Acencion Fuentes, Todd Jacobson, DeMarious T. Morganfield Update Cast
Cameos
Look for J D Souther making a cameo appearance!
"Always" was Audrey Hepburn's last movie. During the last years of her life, Audrey worked as a goodwill ambassador for UNICEF.
More Trivia from Always
Review
Steven Spielberg's 1989 remake of one of his favourite childhood movies called "A Guy Named Joe (1943)" is truly an excellent piece of filmaking .. almost too good!

The first time that I watched it, I remember being disappointed. I was a definite admirer of Spielbergs work but "Always" was struggling to hold my attention and I felt that it was severely lacking in some respect that I don't even remember properly now... The reason? Well, after another viewing and then many others, the myriad of little details that Spielberg had put into the movie filtered through and the characters became real. The film is maybe too intense to take in at first.

This, I'm sure is the root of the problem with the first viewing. Speilberg's layers of detailing actually got in the way of what is a simple character film, but once the 'information overload' settled with familiarity, the true excellence shone through and the film has since become like an old favourite friend.

"Always" is, of course, basically a good old fashioned romance and, as such, is an unusual genre for Spielberg to cover. In many ways it was a precursor of his character films to come like "Schindlers List", "Amistad" and, to a certain extent, "Saving Private Ryan". Having seen these newer movies, I'm convinced that he has since learnt the value of placing detail only where it matters.

The story of "Always" follows a brave (or maybe just reckless) but otherwise rather 'ordinary' fire fighter pilot called "Pete", played excellently by Richard Dreyfuss and his lover, "Dorinda", played by Holly Hunter who is increasingly worried by his acts of bravado and becomes convinced that he's heading for disaster.

I'm sure that I'm not giving too much away by saying that Pete is killed saving his friend "Al" (Played by John Goodman) and the rest of the film follows his role as a kind of inspirational spirit to a rather inept young pilot "Ted" played by Brad Johnson, who rather inevitably meets and decides to pursue "Dorinda".

"Pete" of course has to learn to let go of "Dorinda" and inspire "Ted" without selfishness.

There is plenty of sentiment and anguish here folks as the actors all turn in very fine performances and more than a generous dollop of humour too, just to keep things on an even keel. Many fine performances are also turned in by a great supporting cast including the late Audrey Hepburn who plays her role as "Hap" -a kind of spirit guide or angel- with tremedous charisma. I believe this was her last film appearance before her death.
Author:
Nick
Update This Review
Verdict
Brilliant, but may require a second viewing to reveal its true colours.
Incredible level of detail, fine acting, music etc.

Can seem a little 'sterile' on the first viewing.
Rewind Rating
The Movie Data
Jump To: Music & Soundtrack Vibes
Or use the menu to navigate
1989 Universal Studios
1999-2020 fast-rewind.com
V4_27 Powered by Rewind C21 CMS