SAY WHAT
EXTRAS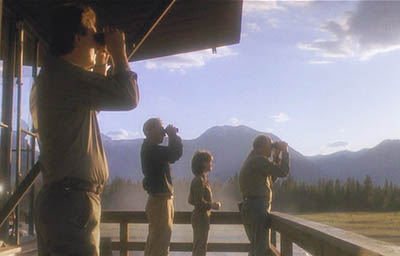 Quotes
Favorite movie quotes and links for the 1989 Drama movie starring Richard Dreyfuss, Holly Hunter, John Goodman More Cast
The following lines from Always are apparently the real deal. If you disagree or have additional info, please update us.
Pete: "Love. -Aint what it used to be."

Al: "Oh, there's only ever been two kinds. There's flash fires, where there's all flame and they burn themselves out and leave nothing. Then there's the long burning. That's nature's burn. Even when you think it's out, the forest floor is still warm to the touch. That's the kind you and Dorinda have got..."

Pete: "You're a poet, Al. You're a really bad poet.. But, you're a poet."
Dorinda: "It's not the dress. It's how you see me..."
Pete: "It's too bad that we don't have a song. You know, when couples say 'hey, they're playing our song'"

Dorinda "-I can't believe you forgot!?"

Pete: "What are you talking about? You sayin' that we have a song?"

Dorinda: "Yes, we have a song!"

Pete: "You're kiddin' me?"

Dorinda: "You big lug, you're gonna break my heart..."

Pete: "You called me a big lug?"

Dorinda: "Yeah."

Pete: "Why don't we try that bit, y'know, that signalling to the band bit. Hey, it works in the movies... Guys, hit it."
Happ: "Time's funny stuff, Pete. A lot funnier than Einstein ever figured out."

Pete: "Yeah? How'd he take it?"
(Pete talks to angel Happ about his first solo flight)

Pete: "Hey, I did my first solo in one of those. I did that!"

Happ: "That's right. And you think you did all that by yourself?"

Pete: "Well, there was certainly no one else up there with me"

Happ: "There was, Pete."

Pete: "There was?"

Happ: "There was someone like you. And behind him there was someone else. Maybe someone who learned what he learned on a motorized box kite. And, if you think of it, you knew that. But you had a different word for it."

Pete: "I did? What word?"

Happ: "It's what flyers and piano players and everyone else count on. They reach for it. They pray for it. And quite often, just when they need it most, they get it. It's breathed into them. It's what the word means. 'Spiritus'. A divine breath... Inspiration."

Pete: "Inspiration.... Yeah...."

Happ: "And now its your turn to give it back. That's how the whole thing works. When you get the hang of it, they hear you inside their own head. As if it were their own thoughts..."
Ted: "Do you think its possible.. to see a girl and know right off that she is IT..?"

Rachel: "I think its possible"

Ted: "This is hard to talk about."

Rachel: "Try"

Ted: "I think it's happened to me. It was last summer and I only met her once. I wish you could have met her. It's like when someone tells you a story or you read a book and after the first page, you know how it's gonna turn out. It was that kind of feeling....That's why I'm here..."
(Pete appraises Ted's chat to Rachel in the bar where all he does is talk about Dorinda)

Pete: "Ted, I'm not sure that I've come across this particular technique before..."
Next Section: Web Links
Next: The Media Guide
Or use the menu to select another option
1989 Universal Studios
1999-2018 fast-rewind.com
V4.0b Powered by Rewind C21 CMS