REWIND
REVIEW

"
Detective Mack Stern Is Facing The Greatest Challenge Of His Life...His New Partner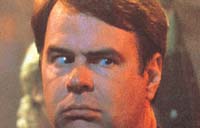 Starring
Dan Aykroyd, Gene Hackman, Dom DeLuise, Ronny Cox
Nancy Travis, Robert Prosky, Paul Koslo, Dick O'Neill, Jan Triska, Leon Rippy, Robert Irvin Elliott, Herb Armstrong, Robert Dickman, David Alan Grier, S. Epatha Merkerson, Reg E. Cathey, Alex Hyde-White, Tobin Bell, Thomas Kopache, Susan Peretz Update Cast
Review
Ellis Fielding (Aykroyd) is a brilliant detective, a man with a keen analytical mind and a high I.Q. Unfortunately, he doesn't react well under pressure. Put him in a violent situation (a chase, a gunfight, a brawl) and he'll freak out, doing a mile-a-minute stream of imitations and impressions.

This doesn't bode well for MacArthur "Mack" Stern (Hackman). He's a hard-bitten, throw-the-book-at-them cop with a bad attitude. He can't keep a relationship together and his methods are ill-suited to the Vice Squad in which he works.

Throw the two of them together for a bizarre case and what do you have? "Loose Cannons".

What is the bizarre case, you might ask? Well, one night at a Washington D.C marina, a group of men and women in costumes are being pursued in a boat by a group of gun-toting maniacs. The reason why? These costumed people have viewed a snuff film starring Adolf Hitler and now they must die. Why? Because a Nazi named Von Metz (Prosky) committed the murder a long time ago and he doesn't want it to ruin his chances at becoming Chancellor of Germany.

Most of the costumed people are dead and so it's up to Mack, in his first homicide case, to figure out who did it. He first meets Ellis at the marina, where Fielding displays his genius in figuring out who lived and who died. For example, merely by looking at a piece of a Queen Of Hearts, he can tell the size of the person who was in it.

The person who wore the Queen Of Hearts outfit was one Harry "The Hippo" Gutterman (DeLuise), the owner of an S&M joint and the last living person to see the film. Fielding and Stern pay him a visit and this is where we see Fielding's first freak-out (Don't you just love alliteration?). Overwhelmed by the stimuli in the room, he starts busting out impressions. One minute, he's the Cowardly Lion from "The Wizard Of Oz"... The next, he's Dirty Harry... The next, he's The Lone Ranger, with his sidekick Tonto (a chair that he clobbers an S&M freak with). Gutterman sees what's going on and so he meets Ellis and Mack, who become his protectors.

Unfortunately, during all this, they've been watched by Neo-Nazis and this leads into another chase, where once again, Fielding starts doing impressions. From "Star Trek" characters to NASCAR drivers, he knows them all and keeps on using them right through a crash-up in a warehouse.

Meeting with his Captain (O'Neill), Stern finds out more about Fielding. It turns out Ellis is the Captain's nephew. He became a police officer despite a troubled youth, because he wanted to be like the rest of his family. He did okay for a while, but when he ended up in a drug case, he was tortured by Colombian dealers who did a number on him psychologically. When he was released, he had a multiple-personality disorder (thus explaining his impressions). Placed under the care of monks for several years, he became an officer again... This is his last shot at redemption.

Being as Mack is without an apartment, due to his bad relationship skills, he moves into Ellis' apartment, an abode in shocking white hues since he can't have any stimuli around him. He ends up doing impressions anyway, much to the chagrin of a yearning-for-sleep Stern.

Getting more information on the snuff film and its potential political impact at the Capitol Building, Mack and Ellis see across a woman named Riva (Travis), an agent with Mossad whose been assigned to work with them. They don't meet yet, for Stern and Fielding have to transport Gutterman to the train station because Harry's off to New York City for a business transaction.

Evading German agents, eventually the 4 heroes meet on the train to discuss the details of the case. Those Neo-Nazis are at it again, though, this time pursuing the gang by helicopter and heading them off at a bridge. Under pressure again, this time Ellis uses impressions of the Road Runner to beat down a Nazi paratrooper, and imitations of Butch Cassidy, The Sundance Kid, Popeye and Tina Turner when he, Mack and Harry plummet into a river to outwit the Germans.

Coming ashore, the 3 find rest in the forest, where during the night, Fielding and Stern have a heart-to-heart talk about Ellis' affliction. This scene is quite touching, speaking in its own way about the problems those suffering from MPD go through every day.

Having found a car, Fielding, Stern and Gutterman come to NYC to hide Harry in one of his buildings, a bathhouse with a design that would make "Scarface" jealous. Gutterman is loaded with guns (hey, the "Scarface" parallels go further!) and so Mack and Ellis grab weapons for some surveilance work. How do you tell if you're being followed by crazed Nazis? Do what Ellis does...Fake a sneeze, listen for someone to say "Gesundheit", and then open fire. This scene has to be viewed to be believed... Hundreds of rounds are spilled out, and eventually, so are Fielding and Stern, right into the street. Gutterman injures himself, so he's taken to the hospital and now our two super cops are off to Grand Central Station.

The climactic chase goes through the heights and catacombs of the GCS, climaxing in a way that is very violent, but very rewarding.

See the movie for yourself. It's a very interesting combination of action, comedy and drama, with a pre-requisite 80s happy ending.
Author:
John Edward Kilduff
Update This Review
Verdict
Yeah, I know the IMDB says "Loose Cannons" was made in 1990, and indeed, that's when most people saw it. If you stay through the end credits, though, you'll see a 1989 copyright date on the movie. This isn't so unusual... "Lisa" and "Don't Tell Her It's Me" (both reviewed on this website) were 80s movies that were shelved until 1990 or later. Sometimes these things just happen.

Either way, I liked this movie. I thought Nancy Travis' character could have been developed better and that they should have picked a tone to stick with (it veers from wacky comedy to psychological drama to gun-barreling action, sometimes within the same scene).

On the whole, it's a good flick to watch when you don't want to think about your movies.
Aykroyd and Hackman's performances, the action scenes and Dom DeLuise's supporting role...

Nancy Travis' character needed development...Inconsistent tone to the action.
Rewind Rating
The Movie Data
Jump To: Music & Soundtrack Vibes
Or use the menu to navigate
1989 TriStar Pictures
1999-2020 fast-rewind.com
V4_27 Powered by Rewind C21 CMS