REWIND
REVIEW

Don't Tell Her It's Me
PG-13
AKA: The Boyfriend School
"
A romantic comedy about true love under false pretenses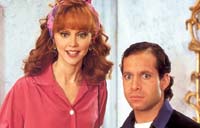 Starring
Steve Guttenberg, Jami Gertz, Shelley Long, Kyle MacLachlan
Mädchen Amick, Laura Alcalde, Perry Anzilotti, Bill Applebaum, Stacy Areheart, O'Neal Compton, Nada Despotovich, Jeannie Epper, Tony Epper, John 'Speed' Finley, Kenneth Grahame, Beth Grant, Bert Hogue, Francis 'Jessie' Krosnick, Caroline Lund, Sally Lund, Joe Mowbray, Kevin Scannell Update Cast
Sarah Bird, the writer, wrote the original novel because she "got so damn tired of the incredible amount of condescension heaped on the genre [of romance novels] by people who had no idea how hard they were and how difficult the craft was to master." She was apparently very disappointed in the finished film. As well as hating the title, "Don't Tell Her it's Me", which she thought was "totally forgettable", she said "It was a surreal experience and completely enjoyable right up until the point at which I sat down and watched the movie. And then, the dream ended". She says "It was such a shock". Ironically, the movie is now marketed under the original title of "The Boyfriend School".
More Making Of Don't Tell Her It's Me
Cast/Crew Sarah Bird, The Writer Of The Movie
Since I wrote the above, Sarah Bird herself very kindly wrote in to say:

"There was a critical feeding frenzy around the movie for several reasons. Numbers one and two were S. Guttenberg and Shelley Long -At that time, the two actors critics most loved to hate. The third was the studio, Hemdale, which was in the process of imploding when the movie came and went bankrupt shortly after. It was owned by one John Hemdale a former boxer/street tough from England who very famously and very disastrously declared in an interview that it is cheaper to not pay your bills and let your debtors come after you in court than it is to operate legitimately. So, no one was pulling for Hemdale Studios at that point. The last and possibly most important reason is Steve Guttenberg's "choices". I never intended for Gus' bout with cancer to be the huge visual element that SG decided it should be. He did some research that led him to demand the fairly grotesque make-up he wore in the beginning. This was too much of a violation of the conventions of the romantic comedy for most critics, viewers, and, frankly, for myself."
More Making Of Don't Tell Her It's Me
Review
Written by Sarah Bird and based on her bestselling novel 'The Boyfriend School', "Don't Tell Her It's Me" is a genuinely uplifting story of love with wry social comment on the theme of 'Why we shouldn't judge books by their covers'.

The same is true of this movie. An uninspiring marketing job by the studio had put off more people than it encourages, which is a shame because what lies within is a classic modern fairytale with a genuinely good heart.

Gus (Guttenberg) plays a shy cartoonist recovering from Hodgkins' disease which has left him sadly swollen and hair-less.

His sister Lizzie, played by Shelley Long is a successful romantic novellist with a string of successful hits, herself a quirky eccentric. Long's character is worried about her brother's lack of romance and sets about fixing him up. To this end she introduces him to a beautiful young reporter, Emily Pear (played by Gertz), who she has met at at a book signing and the comedy of manners ensues.

The point is, of course, that the young reporter is not interested in Gus at all ...Mainly because of his looks, although she is at pains to say that this is not the reason. Gus's sister resolves to use her experience as a romance specialist to transform Gus into one of the heroes of her novels, and in this way make him interesting enough for Gertz's character to take notice of.

What follows is pure low budget magic... Sincerely and charmingly played by all concerned, the movie is one of those rare ones that transcends its humble budget and somewhat cheesy premise and is a genuine joy to watch.

Sadly under promoted, this movie tends to be found languishing in the late night schedules of cable TV stations and was, until recently, unavailable to buy on any format. Thankfully, MGM have now rectified this with a commendable release on DVD.

The movie was filmed in and around Charleston, South Carolina and although, technically, was released on video and cable (where most people will have seen it) in the 90's, was made in 1989 and is an 80's movie in character. Like many 80's films, it will not appeal to harsh realists who will find its fanciful fairy tale premise too sickly to swallow.
Author:
Nick
Update This Review
Verdict
Don't be put off -if you like romantic comedies it's warmly recommended -go for it!
Nice low buget urban fairytale made by people who cared about it.

Like many 80's films, it will not appeal to harsh realists
Rewind Rating
The Movie Data
Jump To: Music & Soundtrack Vibes
Or use the menu to navigate
1989 Hemdale
1999-2020 fast-rewind.com
V4_27 Powered by Rewind C21 CMS