REWIND
REVIEW

"
Lisa is only flirting... But flirting with Richard is flirting with death.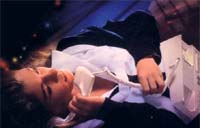 Starring
Staci Keanan, Cheryl Ladd, D.W. Moffett, Tanya Fenmore
Jeffrey Tambor, Edan Gross, Julie Cobb, Michael Ayr, Lisa Moncure, Tom Dugan, Frankie Thorn, John Hawker, Drew Pillsbury, Elizabeth Gracen, Dennis Bowen Update Cast
It seems fairly obvious that "Lisa" was the inspiration for 1992's "Poison Ivy" starring Drew Barrymore. Both films had Lolita-type teenage characters, both involved a series of murders, both had the murderers die by falling out of two-story windows and both starred Cheryl Ladd as the mother. Even the original score from "Lisa" composed by Joe Renzetti sounds very similar to the original score from "Poison Ivy" which was composed by David Michael Frank. It's possible "Lisa" also inspired "The Crush" starring Alicia Silverstone. All three of these films are very similar.
More Trivia from Lisa
Review
Directed by Gary Sheman and starring 80's Teen Icon Staci Keanan, Lisa informs, without being too preachy, the "Playing with Fire" concept that is all but pounded in the heads of teenagers and young people.

The 80's was a decade when many young people were asserting their independence. Madonna was singing "Papa Don't Preach"; Lisa Bonet was starring in X-rated films; and River Phoenix was addicted to drugs.

If I were to step back in time and summarize my life and the lives of many girls at the age of 14 in three words, they would be: Mediocrity, Zealousness and Confusion.

It's like that sappy Britney Spears song states, at 14 you're "Not A Girl, Not Yet A Woman" and what do you want to do in the meantime? Everything you shouldn't until you're older! Drink, have sex, stay out late and cuss your brains out; that's what it's all about when you're in the 8th and 9th grade. And that's what it's all about for Lisa.

Lisa (Staci Keanan) is a pretty-private school-princess raised by her single parent Katherine (Cheryl Ladd). Katherine is no more over-protective than the average parent, but of course it seems that way to young Lisa. Like most mother-daughter relationships, Mom makes the rules and Lisa tries to find a way around them.

In many ways, Lisa is a typical 80's teen. She's in love with George Michael, she's always on the phone with her best friend Wendy (Tanya Fenmore) and she keeps a hoard of secrets from her mother, which could cost her her life.

A psychotic but handsome serial killer named Richard (D.W. Moffett), or "Rick" as Lisa calls him, has been out on the prowl in Lisa's neighborhood and has earned the title "Candlelight Killer" because of the pseudo-romantic atmosphere he sets before he rapes and murders his victims.

Although insane, Richard isn't initially interested in little girls. But Lisa is interested in older men. After literally running into Richard on the way home from the liquor store, Lisa falls quickly into puppy-love. Many anonymous crank calls from Lisa to Richard ensue and as Lisa falls deeper and deeper into "Like", Richard falls deeper and deeper into "Obsession", until it seems that this is one secret that Lisa will not be able to keep from her mother.

"Lisa" is a very simple yet relatable movie. As a young girl, I was mesmerized by this film because it had that oh-so junior high rebellion that every girl goes through at that age. However, this film also demonstrates what can happen when a girl goes looking for trouble, even if she thinks nothing bad is going to happen in the end. Being careless with your affections can lead to grave danger, even in the seemingly pure 80's.
Author:
Bridgette Marie
Update This Review
Verdict
Okay, although the internet movie database states that this film is from 1990, the end of the credits to "Lisa" clearly states that this film is from 1989. In fact, as I write this it just came on a few days ago and I watched all the credits and in large numbers at the end of the credits it said 1989. So this is an 80's movie!

It's weird how much things change, isn't it? I was only 8 years old when this film was new in 1989 and I remember watching it over and over and thinking it was so timely and so with it and now it looks so dated. Not that that's a bad thing, 'cause the style of the 80's rocked, I just thought it was weird how what used to look so new to me at the time now looks obviously 80's.

Nevertheless, I think this is a great film, for young girls especially, to watch and enjoy and to help tame wild girls into remembering that bad things can even happen to them.
Great 80's "look", awesome teen-thriller plot, an adorable Staci Keanan and a beautiful Cheryl Ladd

Hmmm, maybe a little slow at parts, but overall a great movie.
Rewind Rating
The Movie Data
Jump To: Music & Soundtrack Vibes
Or use the menu to navigate
1989 United Artists
1999-2020 fast-rewind.com
V4_27 Powered by Rewind C21 CMS