REWIND
REVIEW

"
The most dangerous Bond. Ever.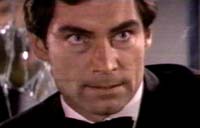 Starring
Timothy Dalton, Maryam d'Abo, Jeroen Krabbé, Joe Don Baker
John Rhys-Davies, Art Malik, Andreas Wisniewski, Thomas Wheatley, Desmond Llewelyn, Robert Brown, Geoffrey Keen, Walter Gotell, Caroline Bliss, John Terry, Virginia Hey, John Bowe, Julie T. Wallace, Kell Tyler, Catherine Rabett, Dulice Liecier, Nadim Sawalha Update Cast
Cameos
Look for Michael G. Wilson making a cameo appearance!
THE LIVING DAYLIGHTS was originally a short story by Ian Flemming, which appeared in PLAYBOY (along with other James Bond stories). The story can be found in the book OCTOPUSSY AND THE LIVING DAYLIGHTS.
More Trivia from The Living Daylights
Review
After 1985's "A View to a Kill", Roger Moore finally announced he had had enough of 007. Originally wanted for the role immediately following 1971's 'Diamonds Are Forever', Albert 'Cubby' Broccoli finally signed Timothy Dalton to take over as the next James Bond. Dalton looked to bring back more of the 'hard-edged' 007 traits to the role and he does so with great aplomb in his 007 debut, 1987's "The Living Daylights".

A routine training mission on Gibraltar goes awry for the 'double-o' section as Agent 004 is murdered, with the message 'Smiert Spionem' [Death to Spies!] found attached to his dead body. Meanwhile, high profile Russian official Georgi Koskov (Krabbe) plans to defect because his superior, General Pushkin (Rhys-Davies) has taken over from General Gogol and implemented Operation Smiert Spionem. Koskov enlists the assistance of friend James Bond (Dalton) to ensure his safety in passage from Russia. At an orchestra recital in town, Bond instantly notices beautiful cellist Kara Milovy (d'Abo), who turns out to be a sniper on Koskov's trail. Bond is ordered to eliminate the sniper, but against orders, he intentionally shoots at the stock of the gun, sparing her life.

Koskov informs 007 that Pushkin is due in Tangiers in three days and suggests that the general be eliminated in order to stop the heinous operation. Koskov is stashed in a safe house and the house is attacked by someone claiming to be a KGB agent, known only as Necros (Wiesniewski). A label bearing the 'Spiert Spionem' mark is found next to Agent 002's body and M promptly orders Bond to kill Pushkin. Bond reluctantly accepts the assignment, as the two men have a former friendship. Moneypenny researches the mysterious sniper whom 007 spared and she comes across a notable tidbit of information: the bullets she used were fake. 007 poses as a friend of Koskov's and gets Kara out of the country, in order to get closer to her and get to the truth.

In Tangiers, General Pushkin meets up with his contact, the egocentric, maniacal dishonorably discharged United States General Brad Whitaker (Baker). Now strictly a black market weapons dealer, Whitaker learns that the deal Pushkin negotiated is off and Whitaker is to repay the deposit. The audience is let in on the plan, as we see that Koskov and his 'kidnapper' Necros are actually Whitaker's welcome houseguests. Koskov is sure he has convinced MI6 that Pushkin is a threat and should eliminate the general.

To drive the point home, the despicable coalition will arrange to kill another British agent. Now in Vienna, 007 learns from local Agent Saunders that Whitaker actually financed Kara's cello on Koskov's behalf. Necros makes quick work of eliminating Saunders as Bond heads for Tangiers, tracing Pushkin. Still hesitant to kill his Russian friend, Pushkin tells Bond that Koskov defected only to avoid arrest and that 'Smiert Spionem' was an operation closed twenty years prior. Bond and Pushkin fake Pushkin's death at Bond's hands in order to see the next step of Koskov's plan. Bond escapes capture by Russian Secret Service and runs into his pal, CIA Agent Felix Leiter (Terry), coincidentally [or not] investigating Whitaker.

Anxious to reunite with Koskov, Kara reaches him and Koskov informs her that 007 is not to be trusted. Kara drugs Bond's shaken-not-stirred martini and as he begins to pass out he convinces her that she is only a pawn and he wants to save her. Kara and the unconscious Bond travel on a Soviet plane to Afghanistan, also loaded with a fortune in diamonds.

Upon arrival, Bond's plea to Kara is confirmed, as Koskov nonchalantly hands her over to the Russians as a defector. Using one of Q's infamous devices, the pair escapes from jail and also release a fellow inmate, a rag-tag-looking Afghan. The Afghan turns out to be Kamran Shah (Malik), one of the leaders of the Mujadin, the Afghan resistance.

Bond and Kara head to a trade session between the Russians and opium merchants, with plans to distribute the wares in the United States, allowing Koskov and Whitaker to make a fast buck or two to get their arms deal underway. Owing Bond for his release, Shah, now accompanied by his leagues of men, assist Bond in foiling the evil plans, and in return Bond helps the Afghans get their diamonds back from Koskov and Whitaker.

The foes are foiled and Kara embarks on a world tour, with her number one fan, James Bond, in tow.
Author:
Kimberley A. Wren
Update This Review
Verdict
While it's certainly not the finest 007 film ever, there's still enough high-flying action here to please action fans and the Bond fanatic alike.

How much you enjoy this one depends on how much you like Timothy Dalton as James Bond. His 'hard-edged' approach is reminiscent of Connery's take on 007, but one sometimes misses the humor of Roger Moore's Bond that most children of the 80's remember growing up.
great action, interesting characters

Dalton a bit too stiff in some ways; one misses the Bond humor in this film.
Rewind Rating
The Movie Data
Jump To: Music & Soundtrack Vibes
Or use the menu to navigate
1987 United Artists
1999-2020 fast-rewind.com
V4_27 Powered by Rewind C21 CMS