REWIND
REVIEW

"
Has James Bond finally met his match?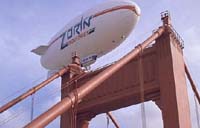 Starring
Roger Moore, Christopher Walken, Tanya Roberts, Grace Jones
Early Appearances
See Dolph Lundgren before they were famous!
Review
In the 14th MGM/United Artists installment of the eternally popular 007 series, Bond goes up against a psychotic, ruthless industrialist intent on cornering the world market of microchips... Especially if he has to kill thousands in order to do it.

The adventure begins in Russia, as Bond captures a Russian-created microchip and makes an exciting snowboard-aided getaway (with a humorous interlude courtesy of the Beach Boys).

We then jump to the always-anticipated opening credits, designed by Maurice Binder, and featuring the title song, performed by 80's supergroup Duran Duran, beautifully shot in the notable 'neon colors' so popular in the mid-80's. This 007 title track is the only James Bond theme to hit #1 in the United States.

Upon return to MI6, the microchip is verified to be identical to a prototype devised by the British, specifically designed to withstand electomagnetic pulse, which is caused by radiation from a nuclear blast and capable of rendering any item containing a microchip utterly useless. A tell-tale mark on the chip points to Max Zorin, a high profile French industrialist, as well as a horse breeder and general equestrian.

Lois Maxwell plays Moneypenny in her 15th and final appearance and Desmond Llewelyn returns to the role of "Q". (Llewelyn will continue to play "Q" through five more films, including the 2000 Bond movie "The World Is Not Enough". Llewelyn died from complications from an auto accident on December 19, 1999.)

Bond begins to investigate Zorin, enlisting the assistance of Sir Godfrey Tibbett (played by Patrick MacNee), also quite knowledgeable in the horse trade. We soon meet Zorin's eccentric, exotic accomplice, May Day (Jones). May Day is nothing if not daring, from her striking red outfit seen at the horse track, to her amazing dive off the Eiffel Tower (actually performed by Bond veteran stuntman B.J. Worth) and landing atop a fast-moving party boat after assassinating Bond's informant. May Day ends up eliminating Tibbett and while we don't actually see his demise, what we do see creates far worse in the imagination.

Enter Stacey Sutton (Roberts), City Geologist for San Francisco, California. Bond discovers (with one of Q's famous gadgets) a large check has been penned by Zorin to Stacey and Bond suspects some sort of payoff. This, combined with Bond's usual interest in the ladies, prompts him to begin tracking Ms. Sutton as well.

Bond's pursuits lead him to San Francisco, as he discovers Zorin's intentions to flood the San Andreas Fault by pumping seawater into the local mineshafts, followed by a bomb to help start a massive earthquake that would all but wipe out Silicon Valley, thus making Zorin the sole proprietor of microchip manufacture and distribution. Getting wise to Bond's discovery, Zorin attempts to eliminate him, along with Ms. Sutton (which would save Zorin his payoff money) by framing them for the murder of Stacey's boss, and then trapping them in an elevator shaft and setting it ablaze. Stacey and Bond narrowly (and humorously) escape via a fire truck, in a heart-stopping chase through downtown San Francisco.

Meanwhile, Zorin prepares for his treachery. On his command, the flooding begins, even before all Zorin's loyal people (May Day included) have a chance to escape. May Day escapes with the help of Bond and ends up sacrificing herself for the good of the potential innocent victims. Zorin captures Stacey in his company blimp and heads towards the Golden Gate Bridge, unaware that James Bond is literally...under him! The climax of the film is Zorin and Bond's fight atop the Golden Gate Bridge, as the maniacal Zorin, in a last-ditch effort, ends up laughing his way all the way down, to his ultimate demise.
Author:
Kimberley A. Wren
Update This Review
Verdict
This is one of the best Bond movies, especially for fans of 80's movies in general, with the Duran Duran theme song and the casting of Grace Jones. Christopher Walken is an outstanding Bond villain.
Christopher Walken is outstanding, Walken and Jones together are very good, great title track.

Tanya Roberts is a little too weak in the role; Bond women should be tougher.
Rewind Rating
The Movie Data
Key Crew
Director: John Glen
Writer: Ian Fleming, Richard Maibaum, Michael G. Wilson
Producers: Albert R. Broccoli, Tom Pevsner, Michael G. Wilson
Locations Manager: Agust Baldursson, Steph Benseman, Nick Daubeny, Jean-Marc Deschamps, Rory Enke, Stefan Zürcher, Jean-Louis Monthieux
Update The Crew
The Movie Trailer
Jump To: Music & Soundtrack Vibes
Or use the menu to navigate
1985 MGM/UA
1999-2020 fast-rewind.com
V4_27 Powered by Rewind C21 CMS