REWIND
REVIEW

"
Somewhere under the sea and beyond your imagination is an adventure in fantasy.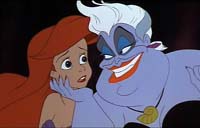 Starring
Jodi Benson, Christopher Daniel Barnes, Samuel E. Wright, Pat Carroll
Cameos
Look for Tim Curry making a cameo appearance!
Among the voices in "The Little Mermaid" are a number of genre veterans: Mark Hamill (Luke Skywalker of "Star Wars), Anne Lockhart (Sheba of "Battlestar Galactica"), Christopher Daniel Barnes (Scott Hayden on the tv spinoff of "Starman" and Rene Auberjonois (Odo of "Star Trek: Deep Space Nine). Barnes and Hamill also did voicework on the recent tv animated series "Spider Man."
More Trivia from The Little Mermaid
Review
Allow Disney to take you on a nautical adventure filled with music, villains and fair maidens...

Under the sea is a world you couldn't imagine, but which is much more similar to your own world than you might think. The Little Mermaid is a brilliant musical fantasy that only Disney could create.

"The Little Mermaid" is in fact a 16-year old, lustrous red haired mer girl who is perhaps not as mature as she should be. Ariel (Jodi Benson) prefers scavenging among the ruins of old ships rather than attending musical concerts for her father, King Triton (Kenneth Mars). Her two best friends are a yellow-and-blue boyish fish named Flounder (Jason Marin) and a cross-eyed, often inaccurate seagull named Scuttle (Buddy Hacket).

Ariel lives in a world of fantastical reveries which has prompted her father to appoint Sebastian (Samuel E. Wright), a caribbean-inspired crab, to be her trustee babysitter. Sebastian discovers Ariel's secret grotto where she keeps all of her "earthly treasures" that she's managed to save from destruction.

More than anything Ariel would like to experience life with humans and sings the poignant song "Part Of Your World". When a horrible rainstorm overturns Prince Eric's (Christopher Daniel Barnes) ship, Ariel finally has her chance. She rescues Eric and is immediately in love. Poor Sebastian tries to distract her, even singing the Jamaican-esque "Under The Sea", but Ariel ignores him. Even a fight with her father can't shake the headstrong Ariel, so she decides to take her request to live on land to the sea witch Ursula.

Ursula (Pat Carroll) is an obese, purple skinned octopus-woman who, with the help of Flotsam and Jetsam(her coniving eel henchman), persuades Ariel by singing "Poor Unfortunate Souls" to relinquish her voice in return for human legs, but she is only allowed to keep these legs for three days. If by the sunset of the third day she hasn't kissed Eric, then she will be turned into one of the pitiful polyps that Ursula keeps in her secret lair.

Ariel has lost her voice, but gained a Prince. They almost kiss while Sebastian serenades them with "Kiss The Girl", but their boat is tipped over by Flotsam and Jetsam. Equipped with Ariel's angelic voice, Ursula transforms herself into raven-haired Vanessa with the intent of stealing Eric away.

But being that this is a Disney movie, do you really think it's going to have a sad ending? I thought not. I urge you to watch "A Little Mermaid" and to fall in love with the idea that it is a profound movie which has lessons that can apply to not only mermaids, but to humans as well.
Author:
Bridgette Marie
Update This Review
Verdict
Anything I could possibly say about The Little Mermaid would be superfluous, because it has been immensely praised and deservingly so.

I didn't acquire too much trivia off of the internet, most of the trivia I give I researched through other sources, mostly books.

Granted, there has been some controversy surrounding this classic film, but out of respect for the Disney Corporation I have not mentioned it on this site.

Being the typical Southern California-raised girl that I am, I love Disney and Disneyland and continue to support both, so please forget about anything you may have heard and just enjoy the trivia that I HAVE included and this wondeful family movie...
Wonderful music, great action, romance, characters, colors, a Disney extravanganza at its best.

No weaknesses here.
Rewind Rating
The Movie Data
Data
Release Date: 17 Nov 1989
MPAA Rating: G
Studio: Walt Disney Studios
Production: RIDICULOUS Pictures, Silver Screen Partners IV, Walt Disney Pictures
Genre: Kids
Update The Data
The Movie Trailer
Jump To: Music & Soundtrack Vibes
Or use the menu to navigate
1989 Walt Disney Studios
1999-2020 fast-rewind.com
V4_27 Powered by Rewind C21 CMS