REWIND
REVIEW

"
The Last Unicorn delivers a tender message of love and the power of magic,myths and dreams.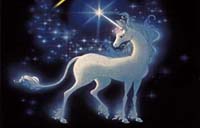 Starring
Mia Farrow, Jeff Bridges, Alan Arkin, Angela Lansbury
Christopher Lee, Tammy Grimes, Robert Klein, Keenan Wynn, Paul Frees, Rene Auberjonois, Brother Theodore, Jack Lester, Ed Peck, Don Messick, Nellie Bellflower, Kenneth Jennings Update Cast
Peter S. Beagle's first two novels, The Last Unicorn and A Fine and Private Place, have remained in print since publication. Both have been hailed as classics. The Last Unicorn was not only made into a 1982 film but was also made into a stage production produced at the Intiman Theater in Seattle in 1988. Peter S. Beagle's works have been translated into 15 languages.
More Trivia from The Last Unicorn
Review
Have you ever been so blessed as to see a real Unicorn?

As a child, did you stare mesmerized at ivory horses, imagining their "cousins" with a single spiral horn sprouting from their forehead; Their eyes full of wisdom and boundless magic. Perfection personified... That is the unicorn.

But even the most naive of us would never believe that we live in a perfect world. For every magnificent entity in this planet, there is an evil one ready to stop it. Can something as extraordinary as an immortal unicorn survive in a world of mortal malevolence?

A certain forest is eternally spring. She balances nature between man and wildlife. Not a leaf falls nor a cloud passes rain overhead, because of her. She keeps the air fresh and the grass soft. Birds sing and animals graze in peace, over her watchful care. She is a unicorn. Absent of regret or fear, she lives indefinitely.

But after overhearing two travelers fret over the unfortunate circumstance that the world is unoccupied by unicorns, the unicorn (Mia Farrow) is racked by curiosity and fear. Could it be true? How could it be possible? unicorns are immortal and surely no decent human being would ever dare dream of exiling the beautiful mare-like creatures?

But alas, it is true, according to the poem-reciting Butterfly (Robert Klein) and it is within the ability of an evil man named Lord Haggard (Christopher Lee). According to the Butterfly, Lord Haggard is the master of a glowing gaseous beast of fire called The Red Bull who has driven away every unicorn from their peaceful habitats and has hastened them all into the waters of Lord Haggards castle. Unless he is stopped, every unicorn will be trapped in Haggards moat for his insane pleasure.

The Unicorn realizes she must risk her life to save the lives of her fellow unicorns and so embarks on an incredible journey. Running through forest and desert, beach and plain, the unicorn is comforted by the fact that a unicorn's horn is invisible to human eyes, so passersby only see her as a beautiful, but ordinary horse. Everyone except Mommy Fortuna (Angela Lansbury).

Fortuna is a homely witch who travels with her circus of freakish animals to amaze and enthrall. Mommy Fortuna captures the unicorn, who then befriends Schmendrick (Alan Arkin). A wizard-in-the-making, Schmendrick takes pity on the unicorn, releasing her from her cage. The unicorn, in turn, releases all the poor beasts, including fellow mythic creature Harpy (a creature with the head of a bird and the body of a woman). The Harpy kills Mommy Fortuna and the Unicorn along with Schmendrick continue their perilous journey.

The two then have a run-in with a friendly band of outlaws. One in particular named Molly Grue (Tammy Grimes), a raggled but kind wench, is completely awestruck by the unicorn's beauty and insists on traveling along with them to Lord Haggards castle.

When it seems the three have almost reached their destination, The Red Bull picks up on the unicorn's presence and begins to chase her to the waters. Schmendrick has no choice but to use his magic to change the unicorns appearance and in so doing turns the unicorn into a human woman.

With long platinum hair and large lavender eyes, Amalthea (as she's now called) is almost the spitting image of her prior unicorn self. Though beautiful, she is miserable and desperately wants her old body back. However, as the hours pass Amalthea turns more and more human and less and less unicorn, even falling in love with Prnce Lir (Jeff Bridges), till it seems she will never return to her original form.

Will Amalthea return to being a unicorn? Will the trapped unicorns finally realize freedom? Will this film end on a high note or have a sad ending? Based on the novel by Peter S. Beagle, I think it is well worth it to watch this animated fantasy classic and find out.

I encourage you to watch this film and be carried away to the days of white unicorns, evil kings and plenty of 80's poignant magic.
Author:
Bridgette Marie
Update This Review
Verdict
I've never considered myself a big fantasy fan. In fact, most of my favorite films are very serious, controversial dramas. However, I cannot deny the beauty of this film. It's very touching and realistic and makes you really wish that Unicorns exist, even if you never cared before.

I recommend this film to fans of unicorns, Mia Farrow, or 80's fantasy.
Great animation, beautiful music, great action. Just a very great, original animated film.

Maybe Mia Farrow doesn't have the greatest singing voice in the world!?
Rewind Rating
The Movie Data
Key Crew
Director: Arthur Rankin Jr., Jules Bass
Writer: Peter S. Beagle
Producers: Jules Bass, Michael Pakleppa, Arthur Rankin Jr., Martin Starger, Michael Chase Walker
Locations Manager:
Update The Crew
Data
Release Date: 19 Nov 1982
MPAA Rating: G
Studio: ITC Entertainment
Production: Incorporated Television Company (ITC), Rankin/Bass Productions
Genre: Fantasy
Update The Data
The Movie Trailer
Jump To: Music & Soundtrack Vibes
Or use the menu to navigate
1982 ITC Entertainment
1999-2020 fast-rewind.com
V4_27 Powered by Rewind C21 CMS