MISTAKES
BLOOPERS

"
He's a big-city kid in a small town. They said he'd never win. He knew he had to.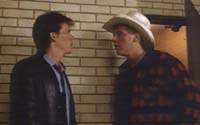 Oooopsy...
"Er, someone wasn't on top of their game that day..."
See the goofs, blunders and plain ole mistakes in the 1984 Dance / Music movie starring Kevin Bacon, Lori Singer, John Lithgow, Chris Penn
Sarah Jessica Parker, Dianne Wiest, John Laughlin, Elizabeth Gorcey, Frances Lee McCain, Jim Youngs, Douglas Dirkson, Lynne Marta, Arthur Rosenberg, Timothy Scott, Alan Haufrect, Linda MacEwen, Kim Jensen, Michael Telmont, Leo Geter, Ken Kemp, Mimi Broadhead, Meghan Broadhead Update Cast
We believe the following are all legit mistakes. If we've bungled it, or you have additional info, please update us.
During the final dance scene, the young blonde guy pops out and does his "popping" dance. While he is dancing there are random crowd shots cheering on. One of those shots includes the same guy while he is dancing.
Thanks to
Amanda Fletcher
In the last dance scene the kid with brown hair in light brown suit who break dances takes his coat off and pulls on his suspenders when he walks out onto dace floor, but in the earlier part of the same dance he doesn't have his coat on.
During the fight scene outside the Lehi Roller Mill, Willard is wearing black cowboy boots while wrestling on the gound. Later when he's dancing inside you can see he's wearing black dress shoes with white and red socks.
On prom night, when Lori singer is getting ready in her room, the dress she is wearing has a short ruffle and a fitted bodice. When Rhen picks her up, the ruffle is longer and the bodice is loose. (a completely different dress). At the prom, during the fist fight, she is back in the first dress.
Bogus Blunders
Sometimes an apparent goof is not a real mistake
The following goofs for "Footloose" are apparently bogus. If you disagree or have additional info, please update us.
While Edna and Chuck are racing each other on the road, Ariel decides to go from Edna's car to Chuck's. Before she does, Ariel throws her sweater in the car. At the diner, though, Rusty throws her sweater at her saying, "Here's your sweater Ariel!"
Next: Some Extra Goodies
Or use the menu to navigate
1984 Paramount Pictures
1999-2020 fast-rewind.com
V4_27 Powered by Rewind C21 CMS