REWIND
REVIEW

"
Somewhere... somehow... someone's going to pay!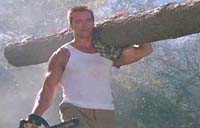 Starring
Arnold Schwarzenegger, Rae Dawn Chong, Vernon Wells, David Patrick Kelly
Bill Duke, Alyssa Milano, James Olson, Dan Hedaya, Drew Snyder, Sharon Wyatt, Michael Delano, Bob Minor, Michael Adams, Gary Cervantes, Lenny Juliano, Charles Meshack, Chelsea Field, Julie Hayek, Hank Calia, Walter Scott Update Cast
Cameos
Look for Bill Paxton making a cameo appearance!
The story of Commando starts with a treatment that had been doing the rounds in Hollywood for some time before successful producer Joel Silver aquired it for his newly formed Silver Pictures. The interesting thing about this particular treatment was that it was written by two students at Columbia University's film school, Joseph Loeb III and Matthew Weisman. The pair had long believed that they would be able to work a deal that enabled them to produce the film themselves. The pair also wrote another screenplay that got made, the Michael J. Fox vehicle "Teenwolf", and it was the success of this that brought them to Silver's attention. This early script was then re-written by fomer New York Times writer Steven DeSouza, who had previously worked with Silver on "48 hrs".
More Trivia from Commando
Review
In 1985, fresh from his almost dialog-free adventures in "The Terminator" and a poorly judged return to swords and sorcery in "Red Sonja", Arnold Schwarzenegger was to take the part that would turn him from cult hero into probably the most bankable action star of the 80's...

Col. John Matrix is the first Schwarzenegger character to demonstrate fully Arnold's incredible talent for comedy.

Rather than a mute and brooding killing machine, the fully developed character of Matrix required Arnold to display the full Gamut of emotions and entirely carry the movie with his presence and comedy timing.

This was a bold step for Arnold (and, of course for the producers) but one that had to be made if he was ever going to be taken seriously.

Director, Lester, summed up the initial fear;

"It's easy to fall into a trap about Arnold's abilities when you consider his previous films and his physique, but he has this incredible sense of humor, and it goes all day long. So we bought that element, Arnold's natural humor, into the film."

Col. Matrix is retired from leading an 'elite commando unit' and living with his daughter, Jenny (Alyssa Milano), in a remote mountain retreat on Mount Baldy, California when his ex-boss, Gen. Franklin Kirby (James Olson) pays him a visit.

General Kirby warns Matrix that several of his retired ex-colleagues in the unit have been murdered and that, as Matrix had made many enemies round the world, he ought to be vigilant.

General Kirby leaves after posting some soldiers to protect him but, just a few minutes later, they are to prove inadequate as a team of renegade ex-special forces storm his home.

It transpires that they are being paid by the former despot dictator of the (fictional) small South American country of Val Verde whom Matrix helped to depose. The dictator has plans to return to power in Val Verde and has hired Matrix's old Rival Bennett (Vernon Wells) to 'pursuade' him to help. This pursuasion takes the form of the kidnap of his daughter, who will only be returned to him if he co-operates.

John Matrix knows that he will lose his daughter even if he complies, so after being put on an eleven hour flight to Val Verde, chooses the near impossible task of jumping from the plane on takeoff and rescuing his daughter from the dictator's island stronghold before the plane lands at Val Verde and they realise that he has not complied...

So starts a desperate race against time and impossible odds. During the race the bodycount rises almost as high as the 'one-liner' count and it is here, in the humor and machine guns and martial arts, that Arnold and the movie work best.
Author:
Nick
Update This Review
Verdict
At the time, many comparisons were drawn against other 'high body count' movies of the era like "Rambo, First Blood Part II". The truth is that the movies are very different with "Commando" having a humor that is totally absent from the "Rambo" movies.

It didn't take long for the press to make comparisons that infuriated Schwarzenegger and were to cause a rift between him and Stallone that was to last until the end of the decade.

As Arnie said himself at the time of the movies' release;

"I've made a better film than Stallone's [Rambo], and I'm happy to wait for time to prove me right" --Which it did. In retrospect, Commando is a better movie than Rambo, largely due to its infinitely superior script and the fact that it doesn't take itself too seriously at all...
Great action stunts and humor

An unrealistic fantasy portrayal of the capabilities of just one man?
Rewind Rating
The Movie Data
Jump To: Music & Soundtrack Vibes
Or use the menu to navigate
1985 20th Century Fox
1999-2020 fast-rewind.com
V4_27 Powered by Rewind C21 CMS