REWIND
REVIEW

"
He always wanted to be special, but he never expected this!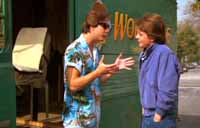 Starring
Michael J. Fox, James Hampton, Susan Ursitti, Jerry Levine
Matt Adler, Lorie Griffin, Jim McKrell, Mark Arnold, Jay Tarses, Mark Holton, Scott Paulin, Elizabeth Gorcey, Melanie Manos, Doug Savant, Charles Zucker Update Cast
Looking at the original draft of Matthew Weisman and Joseph Loeb III's screenplay, the film actually begins with the dream sequence we hear Scott describing to Boof early in the movie. They obviously chose not to shoot it or dropped it from later drafts. Also, the movie doesn't end at the basketball game. There is an additional scene (as there are many throughout) where Stiles almost crashes the Wolfmobile in the parking lot, but Teen Wolf springs into action and saves him. It is quite clear that Michael J. Fox brought a tremendous amount of humour and humanity to the Wolf, as he is an entirely different entity in the script - referred to in a very alienated novelty fashion.
More Trivia from Teen Wolf
Review
A great fun flick with a great pop soundtrack. The talented Michael J. Fox stars as Scott Howard, the teenager who discovers that his family heritage amounts to more than most.

Dissatisfied with life and his losing streak playing basketball for Beacon Town's own 'Beavers', Scott soon finds that the 'changes' he is going though give him extraordinary powers both on the court - and off.

"I am sick of being so average" (Scott Howard)

Soon Scott changes for the first time. The legendary transformation scene is still very effective and never fails to amuse when they reveal that Scott's Father Harold Howard is also an aged werewolf!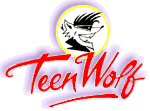 Aided crudely by a fantastic Jerry Levine as his friend 'Stiles' - a schemer with a party attitude, Scott is persuaded to exploit the Wolf to gain popularity. He begins to use his Wolf-ability to perform for the downtrodden basketball team, neglecting his childhood sweetheart, Lisa 'Boof' Marconi, and winning the affection of the school babe Pamela Wells. Meanwhile, the Wolf keeps dunkin' baskets with animal acrobatics!

Coach Bobby Finstock is ecstatic in a hilarious performance from Jay Tarses who has more classic lines in this movie than anyone I can think of:

"...Never get less than 12 hours sleep. Never play cards with a guy with the same first name as a city and never go near a lady with a tattoo of a dagger on her body. Everything else is cream cheese." (Bobby Finstock on the rules of life)

Due to the skeletons in Harold Howard's past as a werewolf, 'TW' is tracked mercilessly by his father's old nemesis, headmaster 'Rusty Thorne', and is also the the target of much unwanted aggression from Pamela's fabulously nasty boyfriend Mick (Mark Arnold).

Moved by his father's warnings, and realising that the Wolf has become too much of a gimmick, Howard finally learns the power of the gift. He wakes-up to the worthwhile girl in his life, Boof (Susan Ursitti), and gambles his determination by playing for the basketball team as himself in the District Championship Final.
Author:
Simon Barber
Update This Review
Verdict
Despite what was clearly a low budget, the film manages well with it's cartoonish special effects and keen performances from Fox and Levine. Fox's charisma is really what elevates the film out of any run-of-the-mill 'I was a Teenage Werewolf' schlock horror-comedy and into a more poignant and lasting tribute to the decade we call 'the frivolous 80's'. Creating a formula that would be mimicked countless times, Teen Wolf, like many other 80's films presented us with entirely new concepts for scenes. Never before had we witnessed an 'Urban Surfing' Wolf who does handstands on the top of a Wolf Mobile!!

"These waves are mine" (Teen Wolf)

What makes this film so special, is it's casual blend of drama and outrageous plot points. Drama teacher Kirk Lolley (Scott Paulin) provides some early laughs with his direction of Pamela in the school play:

"More sensuous darling, want to feel you, want to smell you... hurt me" (Kirk Lolley)

Particular mention should also go to James Hampton as Scott's Father - who allows the acting to seep into Teen Wolf in those scenes where he confronts his son about the public exploitation of his powers.

Perhaps 'pure popcorn' to most viewers, Teen Wolf has always held a strange importance to me as a piece of 80's culture, and although i do not wish to ascribe some sort of earth-shattering intelligence to the production, I feel that as a film which simply would not reach production today, it resonated with that intangible 80's humour which is absent from the Hollywood of the last decade and today. It defined all the necessary categories, the jock, the geek, the princess etc....but it had a terrific tongue-in-cheek irony and a surprising amount of style. Coupled with the classic pop soundtrack, the basketball victory still remains for me, one of the unforgettable 'against the odds' triumphs of 80's cinema, especially since it didn't bathe too lavishly in cheese afterwards a la "Lucas" with it's 'Jock Ovation scene.'

Endlessly quotable, the opening credits still look really cool, but I never could quite grasp how to interpret the punch-out at the disco scene..? They're laughing at the Wolf right? Or is it Mick?

My verdict: A comforting lycanthropian pillow, on which to lay your weary contemporary cinematic head.
Absolutely essential viewing.

Nothing at all!
Rewind Rating
The Movie Data
Jump To: Music & Soundtrack Vibes
Or use the menu to navigate
1985 Atlantic Releasing Corp
1999-2020 fast-rewind.com
V4_27 Powered by Rewind C21 CMS