REWIND
REVIEW

"
Hell Hath No Fury...Like Christine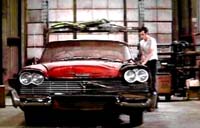 Starring
Keith Gordon, John Stockwell, Alexandra Paul, Robert Prosky
Harry Dean Stanton, Christine Belford, Roberts Blossom, William Ostrander, David Spielberg, Malcolm Danare, Steven Tash, Stuart Charno, Kelly Preston, Marc Poppel, Robert Darnell, Richard Collier, Bruce French, Douglas Warhit, Keri Montgomery, Jan Burrell, Charles Steak Update Cast
Christine has many cameo appearances in other movies based on King's books. For example, in Cat's Eye, the cat and dog are nearly run over by her (check out the bumper sticker saying "I am Christine").
More Trivia from Christine
Review
Some people truly love their cars. They'll give so much love and attention to their vehicles that they have none left for their families or friends. This movie is an example of an extreme case of car worship.

Arnie Cunningham (Gordon) is your average teenager. He's a nerd, constantly pressured by his parents into doing things he doesn't want to do. He's also bullied mercilessly by school thugs with switchblades. He can't stand up for himself... An average spineless wimp. His life sucks royally. The one person who likes him is his football-playing best friend Dennis Guilder (Stockwell). They hang out together and talk about a common interest... CARS.

After a particularly harsh day of high school, Cunningham spots a car that interests him to no end. It's a Plymouth Fury that's in a real P-O-S condition, but that won't stop Arnie from getting his hands on it. Guilder tries to talk him out of it, but after Cunningham ingratiates himself with the old man who owns it, he gets it for 250 dollars (down from 300). The Fury's name is Christine, and her old owner was so obsessed with it, he would die for it... and he did, literally, choking on gas fumes in his car. Arnie knows nothing of this, though... He's determined to turn her into a beauty, but a beast will emerge instead.

Cunningham's mother is furious with him for buying the car, and she gives him and Dennis a double ration of you-know-what over the entire ordeal. After a bustingly verbal argument with his parents, young Arnie takes Christine to a parking garage owned by Will Darnell (Prosky). A gruff-voiced, foul-mouthed individual, he shows a bitter attitude towards Arnie, but eventually takes him under his wing.

Working on Christine gives Cunningham confidence and swagger. These are qualities that make him seem appealing to a beautiful girl named Leigh Cabot (Paul). A brain with a body, if you catch my drift, she's a seemingly impossible catch, but she goes crazy for Arnie and his car. When they make out at a football game Dennis is playing in, it's enough to stun Guilder into paralyzation via attack on the field. Laid up in the hospital, Dennis will never play football again, and he and Arnie drift apart. Dennis will be back, though.

Anyway, while Cunningham and Cabot are sucking face at the drive-in, Christine is just parked. Unfortunately, Leigh feels uncomfortable in the car, so she bolts to the refreshment stand and explains to Arnie her jealousy vis a vis Christine. After brief incomprehension, the two head back to the car. Cunningham notices something wrong with the windshield, so he steps outside to work on that. That's when Christine makes her move. She turns on her own, bright lights flashing, doors locking, 50s rock and roll blaring, front end tipping to make Cabot choke on her hamburger. With much effort, Leigh is freed from the car and given the Heimlich Maneuver. Arnie mistakes that for assaulting her, so he throttles the guy helping Cabot, but only after the food is dislodged. After a night like that, you would think Leigh wouldn't give Cunningham the time of day, much less a second chance. Still, she does...More on that in a paragraph.

The bullies who were threatening Arnie earlier in the movie break into the parking garage and damage Christine with all manner of weaponry they can carry. When Cabot and Arnie visit the next day, they see the car smashed beyond belief. Cunningham, blind in his devotion to this car, assumes Leigh was the one who did the damage, so he curses at her and slaps her. No longer a nice guy, he is now 110 percent certified bad man.

Christine is now getting into gear (no pun intended) for a killing spree. First, she crushes the bullies in assorted manner, from a slicing in a docking bay to a gas station blow-up, all to the sound of the greatest rock and roll hits of the 50s. It then crushes Darnell with the seat, 50s rock and roll blaring again. This car is indestructible..It'll even survive a gasoline fire to mow down another victim. It can re-build itself...It can't be eliminated...It's like it's haunted.

This draws the attention of Police Officer Rudolph Junkins (Stanton). He feels like Arnie is the man behind the killings, although he won't say so. Keeping his eye on Cunningham is tough, because the maniacs are always hard to follow.

Dennis, out of the hospital, is trying to get through to Arnie and tell him that there are people who love him and care for him. Cunningham can't see that...He's past the point of madness by now, guzzling beers while driving Christine (or more accurately, Christine driving them) against traffic.

The only thing that can stop Christine is the combined forces of Guilder and Cabot, but this car won't go down without a fight. After claiming Cunningham (who was going to commit suicide for her as well), she's finally smashed by a forklift. Now safely in cube form, Dennis and Leigh can rest easy... Or can they?

"I hate rock and roll".
Author:
John Edward Kilduff
Update This Review
Verdict
This movie is a horrifying 80s chiller based on a novel by the king of horror, Stephen King.

Expertly directed by John Carpenter and acted by a good cast full of both young talent and old pros, this is a movie that'll have you thinking twice before looking at an antique car or listening to a golden oldies station.

This is easily the best Stephen King adaptation of the 80s, apparently one of his favorites and I'm including "The Shining" and "Cat's Eye" in that description.
Great acting, direction and thrills...

None... A flawless piece of work.
Rewind Rating
The Movie Data
Jump To: Music & Soundtrack Vibes
Or use the menu to navigate
1983 Columbia Pictures
1999-2020 fast-rewind.com
V4_27 Powered by Rewind C21 CMS