REWIND
REVIEW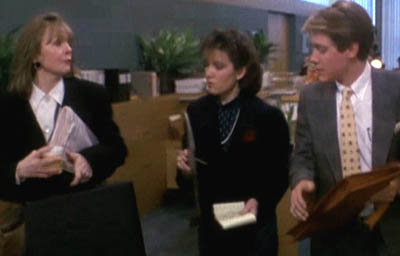 Starring
Diane Keaton, Sam Shepard, James Spader, Harold Ramis
Kristina Kennedy, Michelle Kennedy, Sam Wanamaker, Pat Hingle, Britt Leach, Linda Ellerbee, Kim Sebastian, Mary Gross, Patricia Estrin, Elizabeth Bennett, Peter Elbling, Shera Danese, Beverly Todd, Angel David, Nicholas Cascone, William Frankfather Update Cast
Cameos
Look for Margaret Whitton, Chris Noth, Victoria Jackson making a cameo appearance!
Twins, Michelle & Kristina Kennedy, played the role of Baby Elizabeth. Michelle wrote in to say that they later both attended Westhampton Beach Highschool and were Suffolk county doubles volleyball champions.
More Trivia from Baby Boom
Review
Are you a "Corporate Animal"?

If you're a working woman, like 53 percent of the American work force, you might believe that, in turning a thousand years of cultural evolution on it's head, you have it all...?

"One must never take anything for granted".

Not my words, just quoted straight from the movie. But... If dreams did come true... this one would be for me.

This is a film straight from the super yuppie years of the eighties, complete with power dressing, power synth music and power idealogical happy ending... Mmmmmm, are you getting that warm feeling yet? Read on.

J.C. Wyatt (Diane Keaton), known to her colleagues as the "Tiger Lady", is one of these women. She eats, sleeps and dreams her work. Even her home life with co-hab boyfriend Steven (Harold Ramis) is very convenient and functional... They even study their financial papers in bed!!!!! :(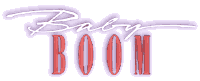 J.C. receives a bombshell just as she is on the verge of becoming a partner with her business consulting firm, Sloane Curtis & Co. She inherits a baby from an English cousin she has not seen since 1954, baby Elizabeth (Kristina & Michelle Kenney).

The humour in the movie of a person who has never spoken to a baby, let alone had one is simply superb as J.C.'s corporate life begins to crumble. Power lunches? Forget it! Working 48hrs 7 day a week? Forget that too! Super mom? Yep... You'd better believe it!

What J.C. does not count on, is becoming attached to Elizabeth. And yes, you've got it... becoming maternal.

An adoptive agency finds what they would call 'suitable parents' for Elizabeth but these Rednecks are straightout of the film 'Deliverance'.... So...

You've got it, J.C. keeps Elizabeth and loses it all. Her job. Her income and her boyfriend.

Let the fairy tale begin...

J.C. and baby Elizabeth move to a gorgeous country home in Hadley Ville, Vermont with orchard included. Unfortunately, the realtors forgot to mention, the lack of radiators, water, leakproof roof and heating.

But hey, without these, J.C. would not have met hunky Dr. Cooper (Sam Shepard) and started a meaningful relationship with him. Yep, I know, CORNY. But we like corny!

The Orchard provides baby Elizabeth with some Yummy "baby applesauce" (times are hard) which is so good they start selling it at the local food store.

Another 'baby Boomer' is born and the "yuppies" love it. J.C builds her business up and WOW, "Country Baby' is born. Suddenly her previous employer, so keen to get rid of her are courting her business...

An 80's dream. Yep a chick flick and I love it.

You have got to see this film! Does she give it up to become a 'Super Yuppie' again? Or does she fullfil OUR dreams and stay with the Hunk?

If you are a career minded person, do not take offence. It is a film with a great feel good factor and a very happy ending :)))

If you like the "Secret Of My Success" you will love this charming story of a woman who makes it on her own terms.
Author:
Sarah Baulch
Update This Review
Verdict
As I have said before, this movie -like so many 80's movies, will give you that warm feeling so absent from many in the decades that were to follow.

Like most of you, I love it when the underdog comes through. If only life could work out like this! But remember, escapism is always good...
If you loved the eighties, shoulder pads, success, romance and of course a heroine you will love this ;)

Would I be writing about my favourite film if I thought it had weaknesses ?!
Rewind Rating
The Movie Data
Jump To: Music & Soundtrack Vibes
Or use the menu to navigate
1987 United Artists
1999-2020 fast-rewind.com
V4_27 Powered by Rewind C21 CMS