REWIND
REVIEW

"
Bernie may be dead, but he's still the life of the party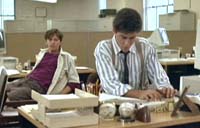 Starring
Jonathan Silverman, Andrew McCarthy, Catherine Mary Stewart, Terry Kiser
Cameos
Look for Ted Kotcheff, Skeet Ulrich making a cameo appearance!
Review
By 1989, 80's movies were winding a downward spiral towards the tepid future that would be 90's cinema. Fortunately for us, one last ray of neon light, a movie flickering on the horizon taking us back to the fun in the sun atmosphere of the most care free era of movies: Weekend at Bernie's.

"What kind of guy invites you to his house and dies on you?" -That would be Bernie.

Richard and Larry (Silverman and McCarthy respectively) are two computer data processors working for a large insurance company in New York City just trying to make it by.

Richard is the workaholic on the straight and narrow, while Larry is the lazy good-for-nothing goof, obviously making them a dubious pair. When they uncover a 2 million dollar glitch in the computer system they take it straight to their boss, Bernie Lomax, confident he will praise them with accolades and promotions. Little do they know, Bernie is the man behind the glitch.

After being invited to Bernie's beach house for the weekend, Richard and Larry feel they've got it made in the shade. Unfortunately for them, Bernie is making plans with a mob boss to have Richard and Larry rubbed out before they can expose his little endeavor. Still, in other news, this happens to be the same mob boss who's mole Bernie has been having an affair with. This persuades the mob boss to take matters into his own hands and make Bernie the one to be rubbed out.

When Richard and Larry arrive at Bernie's they think they've died and gone to heaven. But, reality hits when they find out Bernie has died. Richard's first instinct is to involve the police, but Larry has other plans. Enter into play a nightly traveling beach house party plus Richard's dream woman and things couldn't seem to get any more out of hand. Much to our bumbling pairs surprise, no one notices Bernie's really a corpse all night long leaving the possibility of a weekend of relaxation without anyone the wiser.

The idea of paradise including women, sand and monopoly comes screeching to a halt when the actual assassin returns to make sure Bernie's dead. With the fear of joining Bernie in his current state, Richard and Larry must keep Bernie active and close as it seems the assassin is now after them. Creativity and ingenuity from the two morbid minds are put on hilarious display to keep Bernie among the living and keep alive any hopes of leaving the island and escaping rigormortis themself.

Despite the subject matter being quite macabre. Weekend at Bernie's delivers great 80's comedy and plays it off very well scene by scene. Jonathan Silverman and Andrew McCarthy have excellent chemistry together and Terry Kisser should have won an oscar for his portal of the dead Bernie Lomax.

Suspend your reality for an hour and a half and enjoy a film that will keep you laughing the whole way through...
Author:
Brian Hostetler
Update This Review
Verdict
Posing the life-long moral dilemma "Should dead people be dragged around by their shirt collar just for the sheer fun of it?" Weekend at Bernie's does more than just entertain beyond all reasonable measure. It also boasts insight into controversial issues forcing you to ask yourself "Could I do that?" "Would I do that?" "Should I do that?"

But after watching Weekend at Bernie's and wading past the cynical palm trees and shrubs that may root up along the way, your only left with one conclusion: Dead people are funny and Bernie is one you can watch over and over.
Hilarious movie with great energy and funny performances.

The idea may not sit well with some.
Rewind Rating
The Movie Data
Jump To: Music & Soundtrack Vibes
Or use the menu to navigate
1989 20th Century Fox
1999-2020 fast-rewind.com
V4_27 Powered by Rewind C21 CMS